Press Release 14 July 2022
Verify alarms with just 3 clicks
Art Protection: Fortecho Solutions RFID Asset Monitoring software integrates with Dallmeier HEMISPHERE® software platform
Download Press Release and Illustrations here
Regensburg (Germany), 14 July 2022 – Dallmeier, a leading manufacturer of video security technology, announces that its open software platform HEMISPHERE® will support the RFID-based "Art Protection" system from Fortecho Solutions, the preeminent provider of secure conservation technology. Museums, galleries, and private clients can thus manage their alarms conveniently via a 3D map and check on incidents in a matter of seconds with the aid of video cameras. The many other advantages also include convenient "3-click search" and a comprehensive understanding of the security situation.
Nowadays, many gallery and museum operators use RFID-based tracking solutions to protect their works of art from being touched, stolen, or otherwise exposed to unwanted environmental influences. Autonomous systems lack the oversight made possible by intelligent VMS integrations. This is exactly where the joint solution from Dallmeier and the British IoT security provider Fortecho comes into its own.
The right camera image for every work of art
Fortecho's own suite of powerful active RFID tags gather data at object level and transmit this via encrypted RFID signal to Fortecho's bespoke enterprise software Aspect Arts®. Based on predefined rules and custom set parameters, the software evaluates the information and, if appropriate, triggers alarms. Movement, tamper, proximity, attack, temperature, relative humidity, and lux all present as unique customisable alerts in Fortecho's enterprise software.
The smart integration with the Dallmeier HEMISPHERE® software links the RFID tag alarm messages to the relevant viewing angles of the cameras. If a RFID tag registers an incident the Dallmeier HEMISPHERE® software processes the alarm with the aid of the open message broker "Apache ActiveMQ", and the user sees the camera location in question light up on a 2D or 3D map of his environment – in a colour defined according to the priority of the alarm. At the same time, all events are listed in the "Alarm Inbox" together with all associated information, such as the name and image of the work of art in question, to enable them to be assigned unmistakably. Users can verify the alarm with just one mouse click – for example by switching to the live feed or viewing a playback loop which begins five seconds before the alarm is triggered and ends five seconds thereafter. The alarm can also be forwarded to other users or comments can be added to it.
Interactive dashboards: on the scene with 3 clicks or less
"By integrating the Fortecho RFID tracking solution in the Dallmeier software completely, we can offer our customers the perfect user experience. With the intuitive HEMISPHERE® user interface, security personnel at museums and other facilities can verify alarms from RFID tags on artworks visually in just a few moments", explains Celso Prieto, Head Engineer, Fortecho Solutions. "We were particularly astonished at how easy it was to integrate our solution in the Dallmeier software with just a few lines of code. The systems work together flawlessly."
"The integration of Fortecho is a textbook example of how easily alarm messages from third-party applications can be integrated in the Dallmeier HEMISPHERE® software platform with the aid of Apache ActiveMQ", said Ep Smit, Senior Enterprise Solutions Manager, Dallmeier. "Through the interactive dashboard of the HEMISPHERE® software, users in the museum or art sectors can access all information relating to all incidents within a given timeframe in seconds with three clicks of the mouse or less."
Further Information:
Contact Fortecho
Bart Miller
Head of Commercial
Fortecho Solutions
+44 (0) 20 7736 3330
+44 (0) 7590 187 273
bart@ fortecho.com
www.Fortecho.com
Solon House, 40A Peterborough Road, London SW6 3BN
Wes Perry
Image Bi
+1 (833) 271-8752
wes@imagebi.com
www.imagebi.com
284 Painted Hills Dr, St. George UT 84738
Contact Dallmeier
Ep Smit
Senior Enterprise Solutions Manager
Dallmeier electronic
+49 941 8700 209
ep.smit@dallmeier.com
www.dallmeier.com
Bahnhofstr. 16, 93051 Regensburg, Germany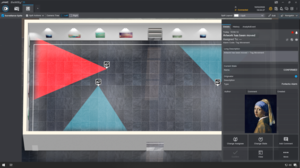 Dallmeier: Turn images into assets.
With pioneering video technology from Germany.
In 1984 Dieter Dallmeier founded what is now Dallmeier electronic – not in the proverbial garage, but in a garden shed in Regensburg, Germany. Today, the company, which can justifiably call itself a hidden champion for video information technology "Made in Germany", has several hundred employees worldwide, more than 250 of them at the company headquarters in the centre of Regensburg alone.
Our customers: From commercial enterprises to World Cup stadiums
Dallmeier's camera, recording, software, and analysis solutions optimise security and processes for B2B end customers in a wide range of industries in over 60 countries. The focus is on users from the casino, smart city, airports, logistics, stadiums, and industrial sectors. But also, banks, critical infrastructure facilities as well as medium-sized companies from all sectors.
Low total cost of ownership "Made in Germany"
With pioneering innovations, Dallmeier has succeeded time and again in placing itself at the forefront of technology: From the world's first digital image storage system with motion analysis in 1992, the patented "multifocal sensor technology" Panomera® with its "Mountera®" mounting system, to the latest Domera® camera family, which allows up to 300 camera variants with only 18 components. These and many other innovations provide real, tangible customer benefits. And with a low Total Cost of Ownership (TCO) and a high Return on Investment (ROI) they can easily compete with systems produced and supplied from low-wage countries.

Cybersecurity, data protection and ethical responsibility through maximum vertical integration
With 100% "Made in Germany", we also guarantee our customers the highest standards in data protection, cybersecurity, and ethical responsibility. With high quality and short supply chains, we also ensure – almost incidentally – sustainability and environmental protection. From our prestigious headquarters in the centre of Regensburg, Dallmeier not only carries out its own research and development but also the complete manufacturing process – from component to product to solution.

www.dallmeier.com
www.panomera.com