Your requirement – Our solution
From "mobile-only" to enterprise system
Video management requirements are as varied as the users themselves. That is why Dallmeier offers the right software for every customer size. The smallest Dallmeier solution consists of only two components: The free SeMSy® Mobile Client and a camera, e.g., from the DOMERA® family.
The Dallmeier VMS world at a glance:
Are you looking for 3D camera planning software?
Go to the Dallmeier planning tool "PlanD"
VMS Mobile: The SeMSy® Mobile Client
Professional video management for your pocket.
The "SeMSy® Mobile Client" is an app for Android and iOS that makes a complete B2B video management system with all important functions available on the move. The smallest version requires only one or more Dallmeier cameras with edge recording and the free app.
For larger customer environments, the system can be seamlessly expanded with the SeMSy® Compact VMS software as well as Dallmeier recording systems and third-party cameras. This makes the system a perfect growth solution or addition for larger requirements.
In contrast to many other mobile solutions, the SeMSy® Mobile Client has been specially developed for professional use with comprehensive location, user, and rights management as well as numerous security features "Made in Germany".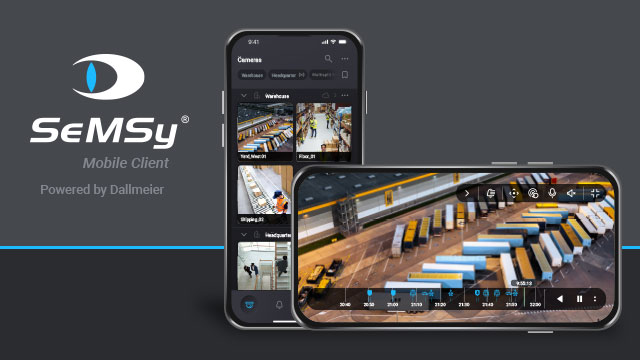 All the functionality of an on-premise B2B VMS available on the move.
Push notifications in real-time thanks to AI-based event triggers; overview of all events
Intuitive "track wheel" operation even for untrained staff
Navigate and search live and recorded video from all cameras with optimal overview
Remotely controllable actions such as addressing via loudspeaker, door control, switching of lights and barriers via IoT protocols (MQTT)
Simple yet professional user management with groups, locations, rights assignment
Quick integration of cameras and recorders via QR code
Easy addition of users via invitation link
Highest security standards through "Made in Germany" (ISO 27001, end-to-end encryption, etc.)
VMS for Small and Medium Businesses
Perfect for Small & Medium Businesses: SeMSy® Compact VMS
Only if surveillance managers can quickly find relevant sequences, they can successfully contribute to the investigation of criminal offences, retrace events or carry out efficient damage management.
Dallmeier's video management system "SeMSy® Compact" is the successor to the proven "SMAVIA Viewing Client" and, together with Dallmeier cameras and recording systems, offers a whole range of innovative assistance systems to help surveillance managers do their job as effectively as possible.
In addition to the fast and intuitive display of live views, SeMSy® Compact offers a variety of functions for the management of the entire system. These range from integrated user administration and a customisable user interface to functions for creating and managing local backups. All functions are perfectly coordinated and are operated together on a dedicated workstation.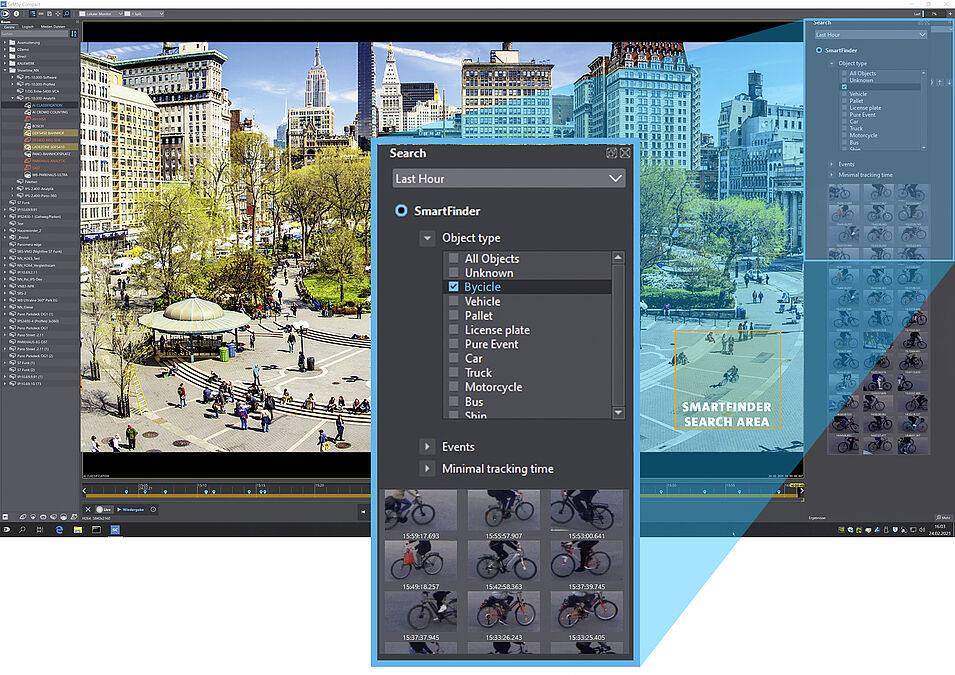 Search with thumbnails and timeline markers
Search for counts, events and objects
Any data source: from classic in-camera VCA and AI analysis to dedicated AI servers
Auto-tracking of events
True data protection through pixelation - even of persons not in motion
Dashboard function for quick situation assessment with diagrams of the analysis data
VMS Enterprise - HEMISPHERE®
Dallmeier HEMISPHERE® is the open platform for businesses that want to improve their security and business processes. It links data from various sources intelligently with video images and processes.
HEMISPHERE® comprises Dallmeier camera and recording systems as well as a wide variety of deeply integrated third party systems.
For solutions that are exactly tailored to your industry and your organisation.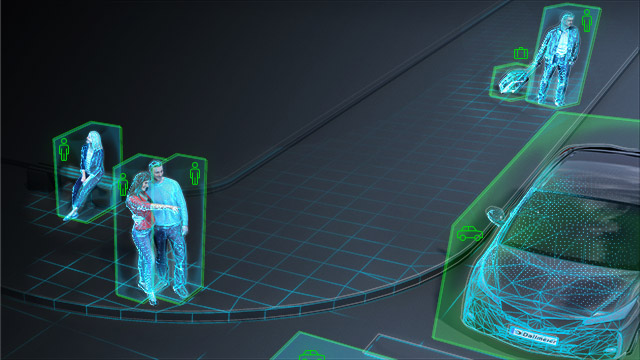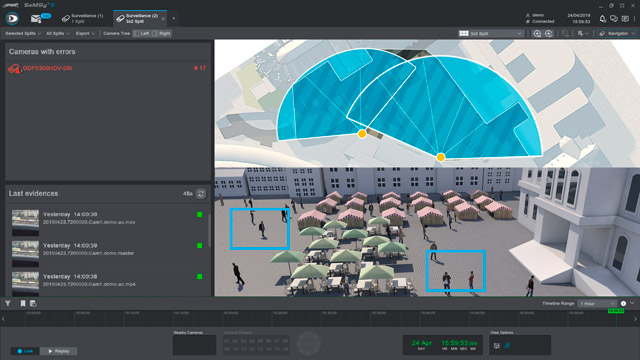 HEMISPHERE® SeMSy® Video and Alarm Management: The modular VMS system serves solution scenarios for all sizes of organizations
SeMSy® Compact: Software for essential Video Management tasks, including "Comfort Search"
HEMISPHERE® Incident Management and "Situational Awareness": Emergency personnel all over the world rely on Dallmeier solutions for the digital recording, processing and forwarding of incidents.
HEMISPHERE® "DSIM": The portfolio of Dallmeier "DSIM" modules ranges from data management in logistics systems to "Physical Security Information Management" (PSIM).
HEMISPHERE® "Analytics": Display, process and correlate traditional or AI-based captured data for a variety of reports and BI applications.
Integration
Interfaces to third-party systems
The open platform approach of Dallmeier IP CCTV solutions enables the integration of a multitude of third-party systems. Dallmeier constantly expandes the interfaces, and in complex system landscapes, customer-specific development is possible.
Learn more: Dallmeier integrations and interfaces