Solutions for Logistics
More Transparency. Better Processes.
The logistics industry is facing enormous changes due to digital technologies, the intelligent use of which in many cases is the prerequisite for decisive competitive advantages.
Dallmeier's modular solutions allow the integration and further processing of video-generated data in a wide variety of existing systems. This enables logistics companies to achieve a wide range of economic advantages.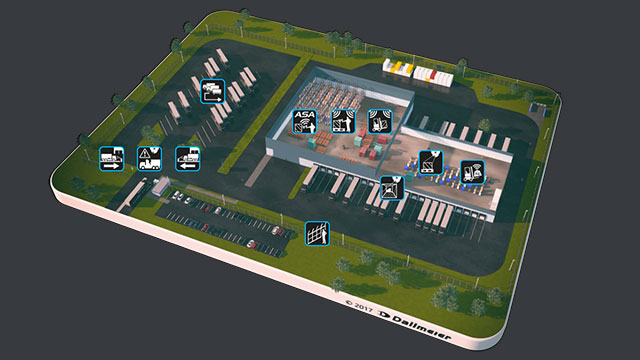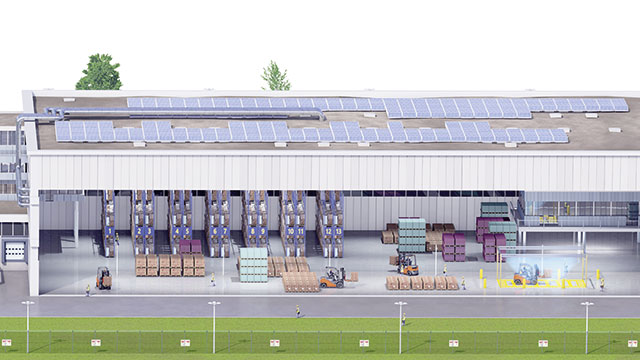 Video security for perimeters, business premises and external boundaries helps to reduce theft and vandalism
Automated registration and sign-out processes upon entry and exit
Improved cycle times in yard management
Full-coverage claims management
Position finding and tracking of shipments in real time
Perimeter and premises protection
Less is more: The patented Panomera® multifocal sensor system safeguards large open expanses such as perimeters with a defined image quality in each square-inch of the area, a prerequisite for court-proof evidence and sufficient image quality for analytics.
This ensures forensic usability and data quality for analysis applications and efficient protection against burglary, outflow of goods or industrial espionage. The optional AI-based object classification system can reduce the number of false alarms to practically zero.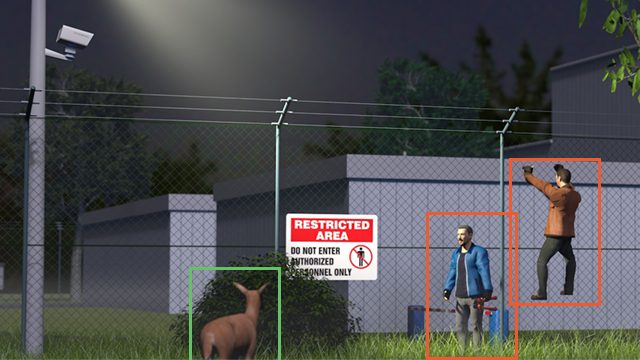 Protection against break-in and theft with "Virtual Guard" function
Two-level AI object classification reduces false alarms to a minimum
Fewer cameras and lower infrastructure costs with Panomera® multifocal sensor system
Uninterrupted video observation/surveillance of the entire area with definable, overlapping minimum resolution
Fastest implementation through autocalibration, pre-focusing and complete software integration
Claims management
Damage to vehicles or parts of buildings is part of everyday logistics operations. This makes it all the more important to ensure smooth processing and rapid clarification of responsibilities for an unbureaucratic and not least emotionally objective settlement of claims via the relevant insurance companies.
Damage management with Dallmeier systems records all relevant vehicle areas on entry and exit as well as on the premises and enables visual documentation of any damage that has occurred. From the recorded data, the system quickly creates corresponding documents with all relevant documents for all parties involved.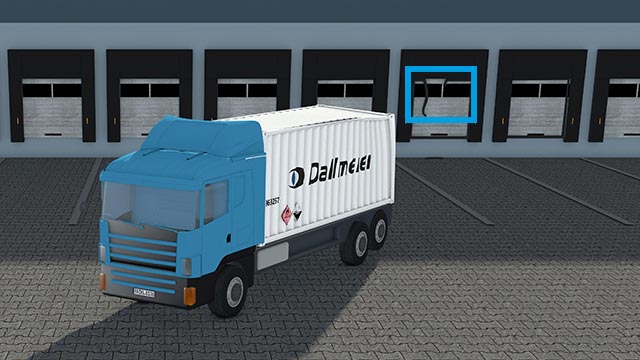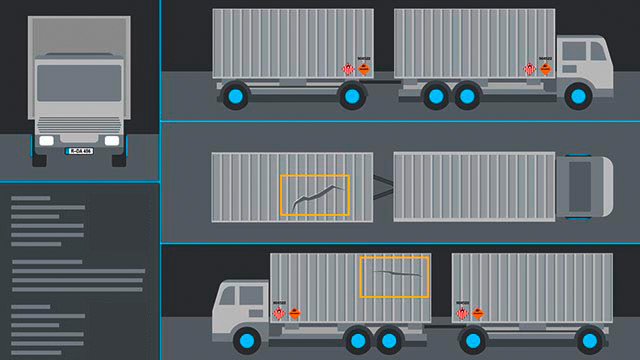 Immediate clarification of liability
Protection of employees and customer relations
Capture of damage to vehicles and buildings (e.g., rubber lips) and transfer of risk
Full coverage visual documentation with Panomera® multifocal sensor system
TAPA
Many customers in the logistics industry and insurance companies for high-tech goods require certification according to TAPA (Transported Asset Protection Association).

Companies in the logistics and transport industry can use this certification to prove that they meet global standards for minimum security requirements.

The camera, recording and software solutions from Dallmeier enable the (over-)fulfilment of the TAPA standards FSR and PSR regarding video surveillance.
FSR (Facility Security Requirements) for secure storage, warehousing and transport-related interim storage
PSR (Parking Security Requirements) for secure parking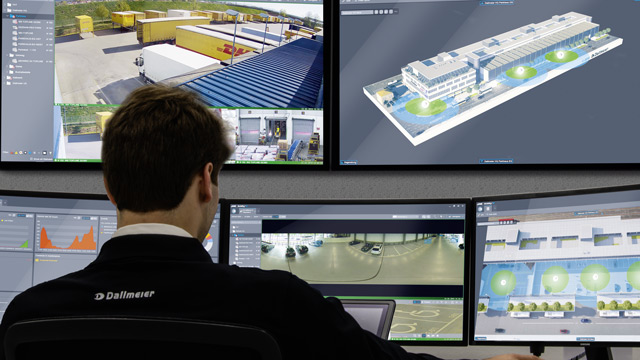 Total solutions for TAPA-compliant, high-quality video documentation
Total solutions for warehouses, loading and shipping areas and premises/Perimeters
(Over)fulfilment of FSR standards and TAPA certification
Image-supported process management
Shift leaders and managers in logistics have a lot on their plate: Ensuring smooth processes in incoming goods, storage and outgoing goods are just some of the daily challenges. It is not easy to keep everything in view at all times.
For many professionals, everyday life is characterised by countless tours and visual inspections, which are time-consuming and energy-sapping.
With the "Panomera® W" camera systems by Dallmeier, logistics specialists can carry out visual checks conveniently from the control centre, as the unique 180° and 360° views seamlessly capture large spatial contexts. Further advantages range from convenient monitoring of production lines to increased occupational safety and streamlined processes.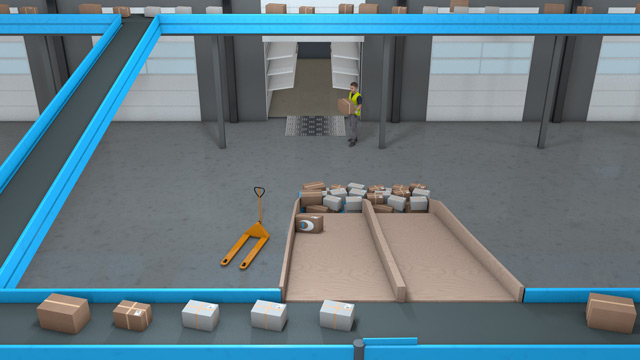 Monitoring of production lines in contract logistics
Optimisation of the flow of goods and Information
Comprehensive 360° views and capture of largest optical contexts with minimal number of cameras
Improvement of accident prevention and occupational safety through video documentation of claim incidents
Tracking
Up to five percent or more of packaged goods are "lost" in a typical chaos warehouse during the day, resulting in a corresponding search effort up to contractual penalties.
With Dallmeier's location solution, logistics companies reduce the effort for retrieval to a minimum, as the location of each package is known at all times thanks to the linking of hand scanners and video data. Lost and misplaced freight items are thus a thing of the past.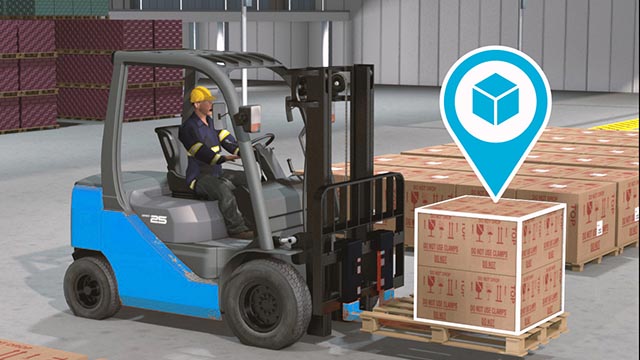 Positioning and tracking of shipments in real time
Location by scan protocol and WLAN cell, frame-precise link to the video image
Much faster detection of lost packages by the operators
Prevention of incorrect placements and empty runs
Precise location with RFID tag on the scanner
Data Protection & Data Security
Data protection made in Germany.
As a German manufacturer of video information systems, Dallmeier's top priority is to protect sensitive and personal data. Dallmeier products are therefore developed strictly in accordance with the GDPR guidelines "Privacy by Design" and "Security by Design".
Dallmeier's innovative 3D project planning also makes the topic of data protection transparent and "tangible" for all stakeholders (e.g. works council, data protection officer) right from the start of a project. Data protection goals are achieved simply and efficiently.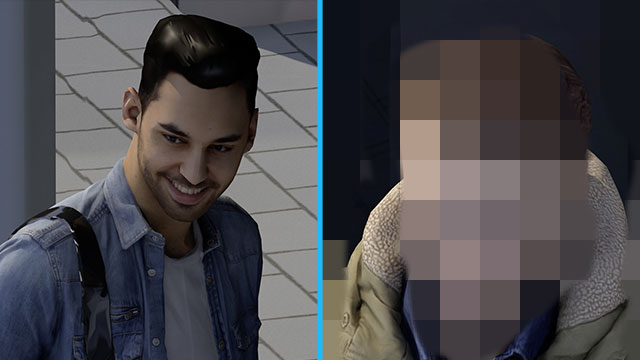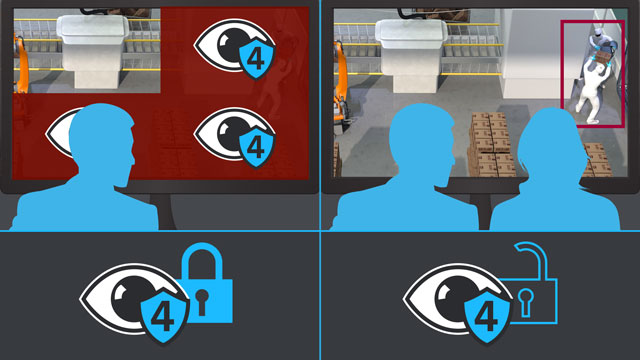 Comprehensive data protection know-how as a German manufacturer
More than 90% vertical range of manufacture and external penetration tests for maximum data security already during development and production
Innovative 3D planning takes data protection concerns (e.g. GDPR) into account as early as the project planning stage
"Privacy by Design": Complete portfolio of data protection functions: From pixelation to the four-eyes principle
"Security by Design": Highest standards in cyber security and data security through control of the entire supply chain, external penetration tests, political Independence
Individual security planning of the video security network
Your Benefits with Dallmeier
Dallmeier Logistics Solutions
Yard management: Dynamic transport order assignment and relaxed lorry drivers
GPS tracking of swap bodies and automatic gate assignments enable the dynamic assignment of transport orders and gates to the yard drivers. In addition, real-time displays of the progress of loading and unloading operations not only allow time forecasts, they also provide the capability to install waiting time displays for lorry drivers. The drivers can then relax between trips, internal workflows are improved, satisfaction levels rise among employees and drivers, and the goods are delivered safely to their destination.

Perimeter protection & claims management: Protection for customers and employees
It goes without saying, the company must also be protected: Around the perimeter, the patented Panomera® multifocal sensor system guarantees cost-efficient protection against break-ins and theft, with substantially lower infrastructure and personnel costs than conventional systems. Damages can be traced and attributed clearly, both for purposes of transfer of risk and in the event of damage to vehicles and buildings (in the case of rubber lips, for example). Consequently, employees and customer relationships are protected with clear responsibilities and provability.

Position finding and tracking of cargo in real time: Complete control of your unit goods
Misplacement of cargo is a known challenge in logistics, and it leads to significant costs. The Dallmeier tracking system offers cost-efficient solutions for this: Even the entry-level solution already enables automatic searches using the package number. Unit goods can be found in a matter of seconds. With the advanced solution, UWB technology on hand scanners, floor conveyors and UHD cameras can be combined to enable precise real-time tracking of all cargo positions, without the need for intermediate scans. So, logistics companies can prevent misplacements, incorrect loading operations and empty runs.

The Dallmeier logistics management module pulls all the threads together
The management module in the Dallmeier solution ensures complete integration in third-party systems and correlation of all data required for search, analysis and statistics. The result: Optimisation of the entire process chain from incoming to outgoing goods delivers significant cost reduction in administration, scan times, search processes and site management.