Solutions for Airports
Maximum security at minimum cost.
Dallmeier offers a wide range of solutions for many complex areas of airport operations: from video surveillance for the security area to systems for apron and runway monitoring all the way to the optimisation of business processes through video-based data acquisition.
At the epicentre of this is Dallmeier´s Panomera® Multifocal-Sensor camera technology, which enables the coverage of very large spatial areas with significantly lower infrastructure and operating costs than was previously possible at airports.
In a flexible, modular approach Dallmeier solutions are created by combining camera- and recording-systems with specific modules of the Dallmeier HEMISPHERE® software platform. This ensures utmost customer satisfaction with maximum cost efficiency.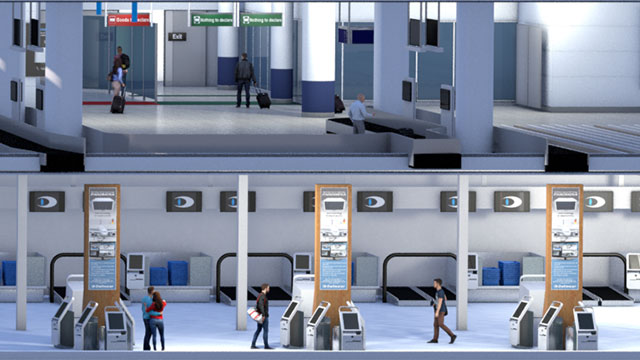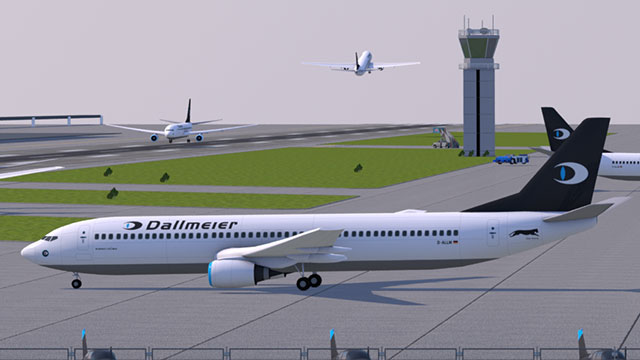 Lowest possible infrastructure costs due to several times lower number of required cameras compared to conventional solutions
Prevention of terminal closures thanks to semi-automated monitoring solution for the security area
Coverage of several kilometres of runway with just a few cameras and installation points with Dallmeier ROMS (Runway Optical Monitoring Solution) sites
Monitoring of large areas with patented Panomera® multifocal sensor system
Partial automation of numerous security and business processes
Fence & Perimeter
Less is more: The patented Panomera® multifocal sensor system safeguards large open expanses such as perimeters with a defined image quality in each square-inch of the area, a prerequisite for court-proof evidence and sufficient image quality for analytics.
The optional AI-based object classification system can reduce the number of false alarms to practically zero.
In addition, the Panomera® technology allows completely new approaches to perimeter protection, such as attaching cameras to existing buildings (90 degrees to the perimeter) instead of along the fence line. This allows customers to make significant savings on infrastructure costs.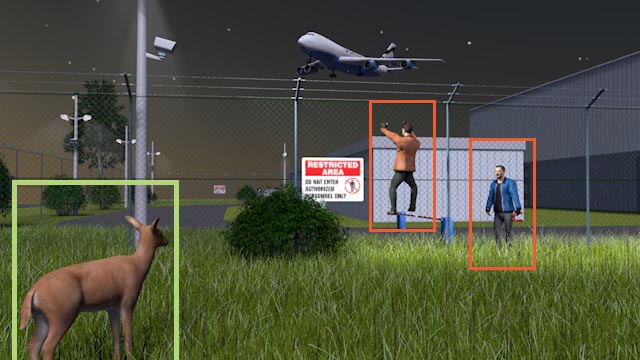 Multifocal technology minimises infrastructure requirements
Permanent instead of selective surveillance ("Virtual Guard")
Panomera technology makes up for shortage of staff
Combination with third party systems (e.g. radar, fence detection)
Apron
Many different processes take place simultaneously on the apron, different users (e.g. police, apron controllers etc.) must be able to access different detailed views.
The Panomera® Multifocal sensor systems enable different high-resolution zooms in all image areas at the same time - both live and recorded.
Thus a multitude of simultaneous processes can be observed by different users and any incidents can be clarified in detail afterwards.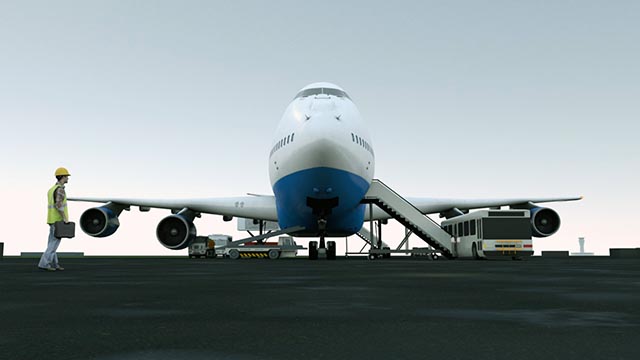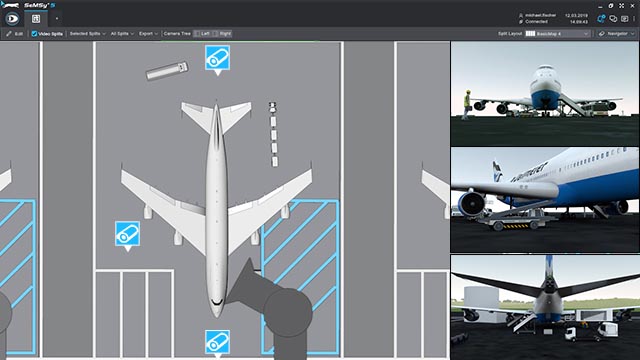 Optical verification of all apron processes
Coverage of extremely large expanses with minimal number of cameras
Police / air traffic controllers / apron controllers, etc. can zoom into the image at the same time
Permanent recording of the entire scene
Runway
How many cameras do you need for a runway?
Runways are a major challenge for optical surveillance systems.
The Dallmeier ROMS (Runway Optical Monitoring Solution) enables airport operators to monitor several kilometres of runways with only a few camera systems and installation points. The camera images are combined to form an overall image, resulting in a seamless overall view.
The exactly plannable minimum resolution allows the use of video analysis for object recognition.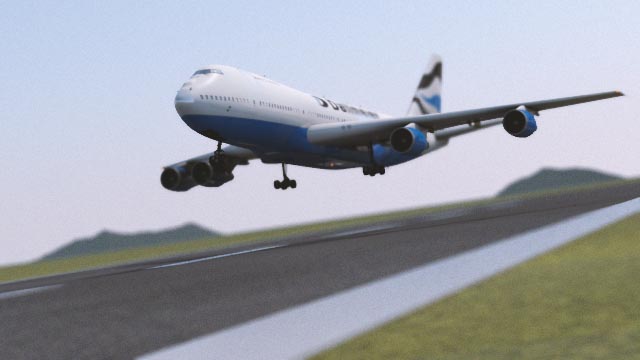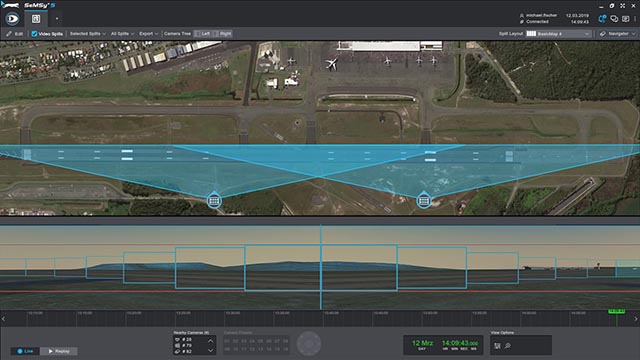 Only one camera view and one camera controller to cover multiple kilometres of runway
Optical supervision of all operations
Capture of transfer of risk from air to ground
Detection and documentation of animals, birds, foreign bodies
Information collection for maintenance and claims management
Taxiway
Everything under control.
On the taxiway, airport operators can detect hazardous situations and document operations quickly with optical verification.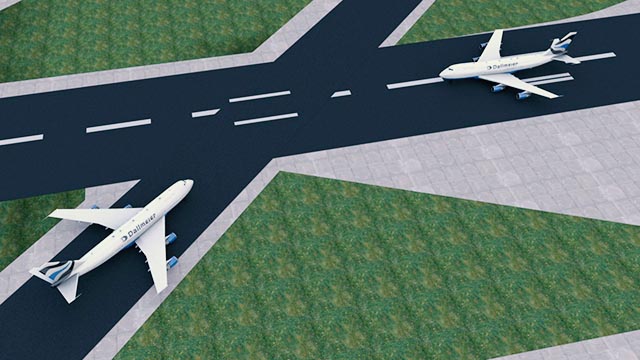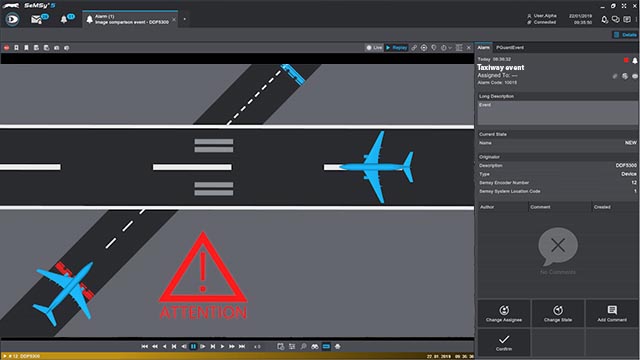 Check of Runway Holding Position (CAT I, II, III)
Rapid recognition of danger situations, e.g., crossing the holding position line
Additional verification of aircraft registration number
Optical check of all operations
Digital Tower
"Eyes" for the Digital Tower.
The development towards "Digital Tower" solutions is progressing rapidly and dynamically. Optical systems are particularly important for any type of "Digital Tower" solution: The quality of the video images must be sufficiently high, definable and precisely plannable. It is also important to cover large areas with as few monitors as possible so that air traffic control personnel can work efficiently.
The Panomera® multifocal sensor system was specially developed for video surveillance of large areas in high and precisely definable resolution quality - an important prerequisite for the technology currently emerging around the "Digital Tower", which promises enormous cost savings and increases in security and effectiveness for airport operators.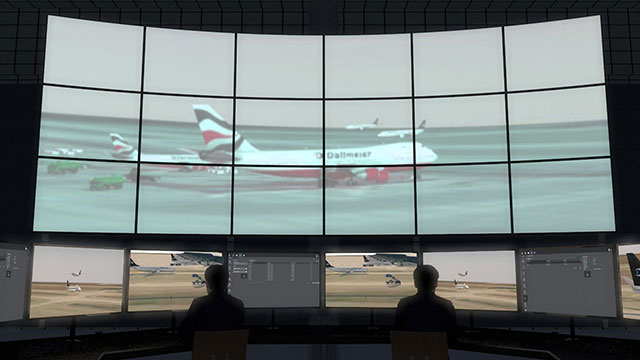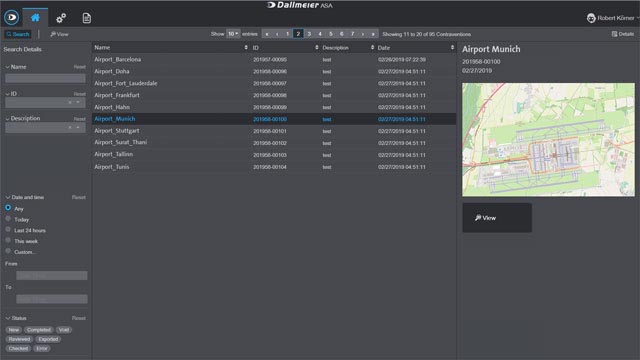 Camera-systems for remote / digital tower solutions
One Panomera® replaces up to 40 Megapixel cameras
Cooperation with leading developer TRIAC
Security area
Terminal (partial) closures, e.g. if an intruder / returnee is not found on time, repeatedly cause major financial damage.
The Panomera® systems enable security forces to have an unprecedented overview of the spatial interrelationships at a significantly lower number of screens for the operators in the control centre.
The situation can be optimised even further with semi-automated monitoring solutions from Dallmeier, e.g. for the customs area (returnees), which enable a further improved situational awareness with up to 50 % reduced overall costs.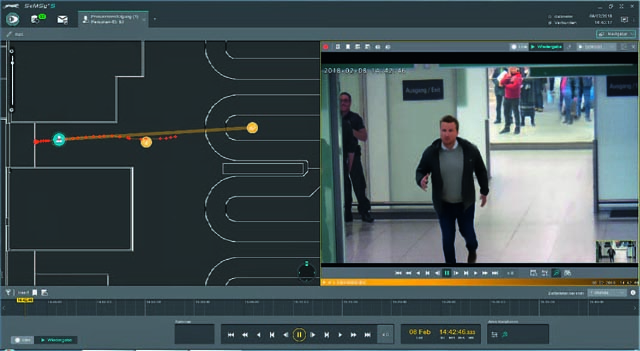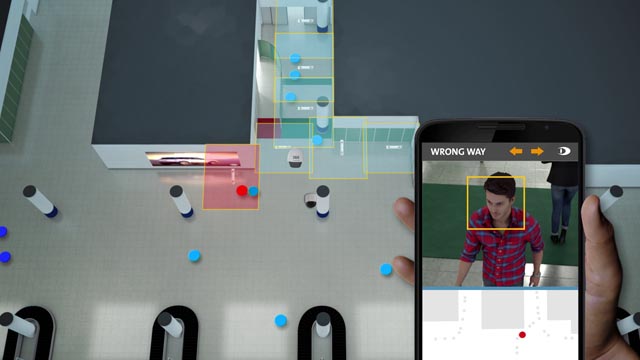 AI- / Sensor-based automation supports security staff and processes
Uninterrupted tracking of individuals over long stretches with Panomera® technology
Full area, semi-automated surveillance of security control points and sequent areas
Tracking-based surveillance of internal demarcations (clean/unclean)
Passenger Flow
Video analysis techniques (e.g. automatic people counting) can be used to manage visitor flows more efficiently. In this way, airport operators optimise waiting times, e.g. at check-in, in the security area or at ID checks. As a result, the capacity utilisation and turnover of airport shops can be optimised or bottlenecks at check-in can be quickly identified and counter measures can be taken.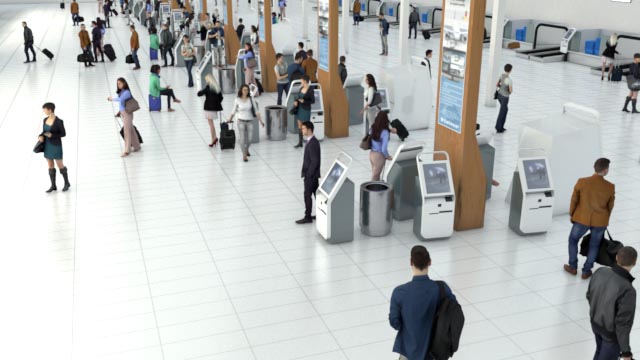 Improved revenue and customer experience
Informed management of visitor flows
"Predictive analysis" e.g. for forecasting congestion at passport control
Workflows, e.g. automatic information to open additional check-in desks
People counting with Al-based video analysis or 3D cameras
See more with Dallmeier.
Security meets Business
The requirements of each airport are unique. The modules of the Dallmeier software platform in combination with the Dallmeier camera and recording systems enable the design and construction of a wide variety of different solutions: The portfolio ranges from the classic Video Management System (VMS) to systems for optimising business processes by incorporating data collected by the Dallmeier systems, and ultimately to comprehensive physical security information and incident management systems.
From improving profits to highest possible security – challenge us!
With the Dallmeier solutions, airport operators can benefit from financial advantages in many different areas: Security objectives are attained more reliably and can be planned more easily with substantially reduced investment in infrastructure compared to other solutions. Revenues from the parking and shopping areas can be increased, thus raising profitability as well. Better allocation of resources and shorter waiting times improve customer satisfaction. At the same time, costs are reduced by better utilisation of capacities. And when it comes to security, Dallmeier solutions make no compromises: By partial automation of many security aspects, e.g. at the security checkpoints or in the customs area, the risk of partial or complete closure of terminals is reduced and both objective and subjective security are increased. Both the security and the business solutions offer a high Return on Investment (ROI) and can be amortised quickly through the gains in productivity and direct savings. Put us to the test!
Panomera® cameras and modular management software
Dallmeier airport solutions combine the patented Panomera® camera technology with a modular software platform to create customised solutions without generating the high cost of individual developments. The Dallmeier recording solutions can be adapted to any IT-strategy, from dedicated hardware all the way through to VM deployments. Uninterrupted tracking in large areas: Panomera® is the patented camera technology from Dallmeier, and has been in operational use in many airports, stadiums, cities, seaports and other "critical infrastructure elements" all over the world since 2011. The unique feature of Panomera® is its ability to capture large expanses and spatial contexts in hitherto unimagined resolution. This ensures for example that an intruder can be tracked without interruption throughout the security zone and beyond, and the operator does not have to pay attention to many different monitors to do so. Automatic tracking functions support the security personnel in ways unknown before. Naturally, these capabilities are equally advantageous in the external areas as well, such as the apron, taxiway or runway. For example, several kilometres of take-off and landing runways can be observed in high resolution using just one camera view and one controller. Simultaneous access for different departments: Another key feature which sets Panomera® in a class of its own is its multiuser capability. This enables many different departments and functions to access the live video images, of the apron for example, at the same time. Each department can view completely different portions of the image simultaneously, and even zoom into the image independently of each other. A single Panomera® system thus replaces many PTZ- and megapixel cameras while minimising security risks because, e.g. the apron controllers can continue to access the video images even during a response by the federal police.
Consulting, 3D Planning and Services
Customers can benefit from our many years of experience at airports all over the world, and the optimal solution is worked out for the customer. A detailed planning process with customised 3D planning guarantees in advance that the customer's requirements will be met. The system is not finally delivered until a complete test run of the entire, finished system has been conducted at the Dallmeier Factory Acceptance Test Centre. The custom-designed Dallmeier Service and Support package ensures problem-free operation after implementation as well.