Press Release 03 April 2019
Dallmeier receives "Best New Product" award at World Game Protection Conference 2019 for combination of AI and video technology
Download Press Release and Illustrations
Casino video surveillance pioneer Dallmeier received the "Best New Product" award at the World Game Protection Conference (WGPC) 2019 in Las Vegas in March 2019. A committee selected Dallmeier's "Casino Automation Technology" (CAT) for this prestigious honour. CAT is a solution that combines artificial intelligence (AI) and video technology to optimise the management of table games such as Baccarat or Blackjack.
Dallmeier's Casino Automation Technology (CAT) is the first gaming automation system that is already live in a productive environment with the biggest installation of more than 1,000 tables in Macau. It is currently available for Baccarat and Blackjack and uses AI technologies and standard Full-HD IP cameras to recognise chips and cards, provide real-time information about bet position and bet value, game pace, float value, etc. CAT allows for a highly increased game pace, a much more effective protection from fraud and an accurate player rating, to name just a few key functionalities.
Joe McDevitt, president of Dallmeier USA, states: "We are very happy about the "Best New Product" award – it is more evidence we are heading in the absolute right direction with our innovative combination of existing video technology and artificial intelligence applications. The solution revolutionises the way casinos will manage their table games in the future. From interfacing with the smart dealing shoe to the automatic detection if a table is losing money to a much more sophisticated and accurate player rating – CAT provides casinos with a variety of functions that considerably increase pace of play while at the same time improving security and providing a treasure of data for marketing."
Further information:
https://www.dallmeier.com/en/solutions/markets/casino/solution-table-gaming-automation.html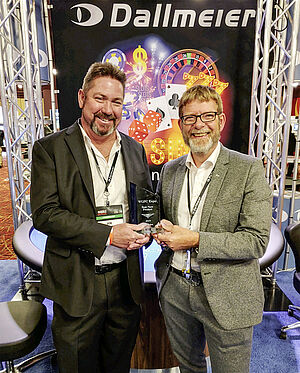 Dallmeier: Turn images into assets.
With pioneering video technology from Germany.
In 1984 Dieter Dallmeier founded what is now Dallmeier electronic – not in the proverbial garage, but in a garden shed in Regensburg, Germany. Today, the company, which can justifiably call itself a hidden champion for video information technology "Made in Germany", has several hundred employees worldwide, more than 250 of them at the company headquarters in the centre of Regensburg alone.
Our customers: From commercial enterprises to World Cup stadiums
Dallmeier's camera, recording, software, and analysis solutions optimise security and processes for B2B end customers in a wide range of industries in over 60 countries. The focus is on users from the casino, smart city, airports, logistics, stadiums, and industrial sectors. But also, banks, critical infrastructure facilities as well as medium-sized companies from all sectors.
Low total cost of ownership "Made in Germany"
With pioneering innovations, Dallmeier has succeeded time and again in placing itself at the forefront of technology: From the world's first digital image storage system with motion analysis in 1992, the patented "multifocal sensor technology" Panomera® with its "Mountera®" mounting system, to the latest Domera® camera family, which allows up to 300 camera variants with only 18 components. These and many other innovations provide real, tangible customer benefits. And with a low Total Cost of Ownership (TCO) and a high Return on Investment (ROI) they can easily compete with systems produced and supplied from low-wage countries.

Cybersecurity, data protection and ethical responsibility through maximum vertical integration
With 100% "Made in Germany", we also guarantee our customers the highest standards in data protection, cybersecurity, and ethical responsibility. With high quality and short supply chains, we also ensure – almost incidentally – sustainability and environmental protection. From our prestigious headquarters in the centre of Regensburg, Dallmeier not only carries out its own research and development but also the complete manufacturing process – from component to product to solution.

www.dallmeier.com
www.panomera.com