Press Release 28 July 2022
Press Release 28 July 2022
Successful start goes into extension
ONEsolution and Dallmeier extend partnership in Austria
Download Press Release and Illustrations here
Regensburg (Germany), 28 July 2022 – The German video security technology manufacturer Dallmeier electronic GmbH & Co. KG and the Austrian security integrator ONEsolution extend their cooperation, which started in October 2021. Within the framework of the partnership, ONEsolution offers security solutions based on the entire product portfolio of the Regensburg-based manufacturer.

ONEsolution, newly founded in October 2021, offers efficient complete solutions for physical security, including video surveillance, access control, intrusion detection systems, intercom, and AI-based video analysis. The leading technology in the field of video is the camera, recording and software portfolio of the Regensburg-based manufacturer Dallmeier, including the patented multifocal sensor technology "Panomera®".
NÖ Netze-EVN Group and MAGNA acquired as major customers
The company can look back on a successful first business year. In addition to numerous projects from the industry sector, ONEsolution was able to win the NÖ-Netze and the automotive full-service provider MAGNA Graz as major customers. Other customers are, for example, Snack & Back, ams-OSRAM AG, Arbeitsmarktservice (Public Employment Service), etc.
"For our customers, the topics of quality, durability and data protection/data security are playing an increasingly important role - not least because they are increasingly looking at the total cost of a solution and not just the price of the individual product," says Michael Stix, Managing Director of ONEsolution. "With Dallmeier's solutions as our main brand, we are thus exactly in line with this trend: '100% Made in Germany' ensures maximum longevity and minimum support effort. Thus, many solutions with supposedly high-priced products are suddenly cheaper overall than supposedly low-priced solutions. Not to speak of the better results."
"We are more than satisfied with our partnership with ONEsolution since their market launch in October. As a qualified security integrator, the experts from Styria serve customers from a wide range of industries with suitable solutions from our entire portfolio," says Christian Linthaler, Sales Director National and International, Dallmeier electronic. "We are very optimistic about a well-filled joint project pipeline for 2022, and it is particularly important for our customers that we are able to deliver well despite the general supply chain situation, unlike other companies."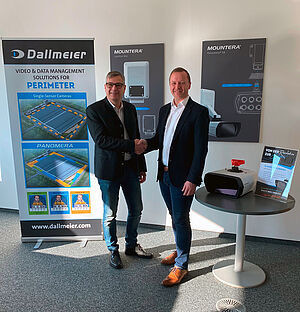 Dallmeier is the only manufacturer of video security technology that develops and manufactures all components in Germany. This includes the entire product range, from cameras to picture storage and transmission to intelligent video analysis and even individually adjusted management software. Quality made by Dallmeier, made in Germany!
Dallmeier has at its disposal more than 35 years of experience in transmission, recording as well as picture processing technology and is a leading pioneer of CCTV/IP solutions worldwide. This profound knowledge is used in the development of intelligent software and high-quality recorder and camera technologies enabling Dallmeier to not only offer stand-alone systems, but complete network solutions up to large-scale projects with perfectly integrated component. Right from the beginning the company always focused on own innovative developments and highest quality and reliability.
Over the years, Dallmeier has repeatedly given fresh impetus to the market with new developments and extraordinary innovations. The world's first DVR for example, which introduced digital recording to the entire CCTV industry more than 25 years ago, came from Dallmeier. The introduction of the patented multifocal sensor system Panomera® has had a similarly ground-breaking effect, ushering in a new era for the industry. This unique camera technology is revolutionising the market and opening up completely new possibilities for securing assets, optimising business operations and ensuring public safety. This and the extensive experience in the CCTV and IP field have led to a top position in the international market for digital video surveillance systems.