Press Release 06 June 2018
Easy implementation of EU GDPR-compliant video security equipment: Dallmeier presents combined module for data protection and data security
Download Press Release and Illustrations
The EU General Data Protection Regulation (EU GDPR) affirms the great importance of data protection and data security, but does not spell out any regulations relating specifically to video security systems. With the 14 functions of the Dallmeier module, businesses can configure their video systems individually so that each is compliant with the requirements of the EU GDPR.
The video solution must satisfy the criteria for data protection
With regard to data protection, which is to say the safeguarding of data protection principles and the rights of data subjects, Dallmeier offers four components, specifically the pixellation of entire individuals by "people masking", the setup of "private zones" in the captured image to render public areas invisible for example, and the definition of the maximum storage duration for each camera. Optionally, Dallmeier customers can also use a detailed virtual 3D simulation as early as the project planning stage to define which areas are not significant for data protection purposes due to image quality.
Data security is paramount in the EU GDPR – for video as well
For the requirements of data security, i.e. the protection of confidential or personal data from manipulation, loss or unauthorised access, the Dallmeier module offers ten functions in all. On the network level, the Dallmeier module provides authentication according to IEEE 802.1X, end-to-end encryption with TLS 1.2 / 256-bit AES in current Dallmeier systems, and with the "ViProxy" function, Dallmeier recording appliances fulfil the role of security gateway for the video system. Furthermore, all hardware, software and firmware solutions are developed in-house, which eliminates the possibility of hidden access through backdoors.
On the recording level, compliance with EU GDPR regulations is guaranteed by the optional "dual control principle" for viewing recordings, the specification of recording time for each user group with "MaxView" and user group administration via AD/LDAP. Reliable detection and prevention of connection attempts is assured by the "Fail2Ban" function, corresponding failover and redundancy mechanisms during recording protect against data losses. Finally, LGC certification ensures that all criteria for judicial usability are fulfilled in the preservation of evidence.
"It is no secret that the ultimate interpretation of the EU GDPR in practical implementation is in no way defined conclusively and will continue to be debated and defined intensely by the national and European data protection oversight authorities until long after the end of 2018", says Jürgen Seiler, managing director of the Dallmeier consulting subsidiary davidiT. "Consequently, the best and simplest way to approach video security is to implement solutions which already provide the answers to all of the requirements that can be anticipated. With the 14 functions of our combined data protection and data security module, customers receive access to precisely this functional range in a form which is easy to both manage and configure."
Comprehensive brochure and webinar with solution and application demo on the subject
A comprehensive brochure on the subject is available and a webinar on the data protection and data security module will be presented on June 19th 2018 at 05:00 pm CET for interested decision makers and technicians. The webinar will provide a general overview of the topic and of the various functions and their configuration. Brochure and registration link can be found at:
https://www.dallmeier.com/en/events/webinars/information-on-eu-gdpr-and-video-security.html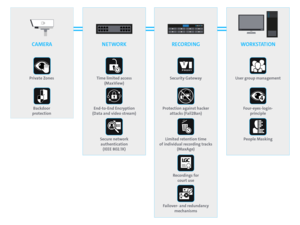 Dallmeier: Turn images into assets.
With pioneering video technology from Germany.
In 1984 Dieter Dallmeier founded what is now Dallmeier electronic – not in the proverbial garage, but in a garden shed in Regensburg, Germany. Today, the company, which can justifiably call itself a hidden champion for video information technology "Made in Germany", has several hundred employees worldwide, more than 250 of them at the company headquarters in the centre of Regensburg alone.
Our customers: From commercial enterprises to World Cup stadiums
Dallmeier's camera, recording, software, and analysis solutions optimise security and processes for B2B end customers in a wide range of industries in over 60 countries. The focus is on users from the casino, smart city, airports, logistics, stadiums, and industrial sectors. But also, banks, critical infrastructure facilities as well as medium-sized companies from all sectors.
Low total cost of ownership "Made in Germany"
With pioneering innovations, Dallmeier has succeeded time and again in placing itself at the forefront of technology: From the world's first digital image storage system with motion analysis in 1992, the patented "multifocal sensor technology" Panomera® with its "Mountera®" mounting system, to the latest Domera® camera family, which allows up to 300 camera variants with only 18 components. These and many other innovations provide real, tangible customer benefits. And with a low Total Cost of Ownership (TCO) and a high Return on Investment (ROI) they can easily compete with systems produced and supplied from low-wage countries.

Cybersecurity, data protection and ethical responsibility through maximum vertical integration
With 100% "Made in Germany", we also guarantee our customers the highest standards in data protection, cybersecurity, and ethical responsibility. With high quality and short supply chains, we also ensure – almost incidentally – sustainability and environmental protection. From our prestigious headquarters in the centre of Regensburg, Dallmeier not only carries out its own research and development but also the complete manufacturing process – from component to product to solution.

www.dallmeier.com
www.panomera.com