Press Release 17 January 2019
Substantial relief for personnel stress: Dallmeier presents new police observation capabilities and techniques for automating policing procedures at the European Police Congress
Download Press Release and Illustrations
It is impossible to imagine the police carrying out their daily duties without modern video technology. Even so, many solutions pose significant challenges for the police personnel because they cannot be operated without a substantial commitment of human resources. At the European Police Congress which will be held in Berlin on February 19 and 20, Regensburg-based company Dallmeier will therefore demonstrate how video surveillance, observation and analysis can be conducted much more efficiently by combining innovative camera equipment and modern software. Another key topic will be solutions for partial automation of policing procedures.
3D Smart Viewing for the big picture
Completely new opportunities are opened up by combining the proven Panomera® technology with the new concept of "3D Smart Viewing". In this combination, new, ultra-high performance Panomera® 360 degree systems are combined with other Panomera® models according to the area to be covered and enable related incidents to be captured even if they are separated by great distances. Essential tasks such as tracking objects between multiple cameras or activating the most favourably placed camera are assured semi-automatically. This makes it possible to use a minimum number of monitors to observe connected incidents that could not be captured previously. For many scenarios, this technology now enables true video observation with an acceptable number of response personnel for the first time. Response teams can be relieved of still more of the burden by combining the technology with AI-based analysis systems, which may serve either to direct attention to significant events or to filter out irrelevant connections before human intervention or evaluation is necessary.
Software support for "situational awareness" and policing procedures
In order to support policing procedures, Dallmeier presents solutions for two areas: To begin with, the manufacturer offers a modular solution with which response teams can receive real-time information from a central source via their mobile devices. This information may be static or moving images from camera systems, but it can also deliver real-time map information and much more to the deployed personnel. The solution enables response teams to be directed on the basis of more accurate information and optimal coordination with control centre. Conceivable scenarios include football matches, for example, allowing personnel to identify suspicious individuals directly in front of the exit tunnel because they have received photos and other information on their mobile end devices in real time.
This system can be combined with the "digital police file" solution. This is an exceptionally flexible system with which all data pertinent to an incident can be collected from various sources regardless of location and assigned to a digital incident file. The data from an enormous range of sources and media formats can be collected in this "file" and integrated electronically in subsequent investigation steps. The system can be configured flexibly and adapted for various procedures. Conceivable scenarios are large events, but it may also be used for traffic incidents and in many other situations where the capture and further processing of investigation data is very labour- and cost-intensive.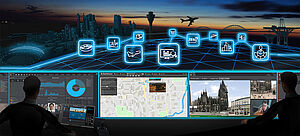 Dallmeier: Turn images into assets.
With pioneering video technology from Germany.
In 1984 Dieter Dallmeier founded what is now Dallmeier electronic – not in the proverbial garage, but in a garden shed in Regensburg, Germany. Today, the company, which can justifiably call itself a hidden champion for video information technology "Made in Germany", has several hundred employees worldwide, more than 250 of them at the company headquarters in the centre of Regensburg alone.
Our customers: From commercial enterprises to World Cup stadiums
Dallmeier's camera, recording, software, and analysis solutions optimise security and processes for B2B end customers in a wide range of industries in over 60 countries. The focus is on users from the casino, smart city, airports, logistics, stadiums, and industrial sectors. But also, banks, critical infrastructure facilities as well as medium-sized companies from all sectors.
Low total cost of ownership "Made in Germany"
With pioneering innovations, Dallmeier has succeeded time and again in placing itself at the forefront of technology: From the world's first digital image storage system with motion analysis in 1992, the patented "multifocal sensor technology" Panomera® with its "Mountera®" mounting system, to the latest Domera® camera family, which allows up to 300 camera variants with only 18 components. These and many other innovations provide real, tangible customer benefits. And with a low Total Cost of Ownership (TCO) and a high Return on Investment (ROI) they can easily compete with systems produced and supplied from low-wage countries.

Cybersecurity, data protection and ethical responsibility through maximum vertical integration
With 100% "Made in Germany", we also guarantee our customers the highest standards in data protection, cybersecurity, and ethical responsibility. With high quality and short supply chains, we also ensure – almost incidentally – sustainability and environmental protection. From our prestigious headquarters in the centre of Regensburg, Dallmeier not only carries out its own research and development but also the complete manufacturing process – from component to product to solution.

www.dallmeier.com
www.panomera.com