Press Release 11 August 2021
"Not all integrations are alike": Deep integration of fire, intrusion, access control and more
Dallmeier presents portfolio of deeply integrated interfaces within the "HEMISPHERE®" software platform
Download Press Release and Illustrations here
Regensburg (Germany), 12 August 2021 – Dallmeier electronic, one of the world's leading manufacturers of video information technology, presents an extensive portfolio of different interfaces for integrating third-party systems in its HEMISPHERE® software platform. The very close integration and a variety of data exchange and control capabilities enable users to make the most of optimal information flows and efficient work processes.
Not all integrations are alike
To accessing third-party systems, many video management systems and security platforms function by "embedding" the user interface in their own software, using iFrames for example. But since users must continue to control the systems separately, this approach is sometimes inefficient. Moreover, it is difficult to accurately display and track chronological and spatial relationships. Conversely, customers often find it difficult to determine whether undesirable data flows are taking place from the VMS to third-party systems, or performance is being impaired.

With the "HEMISPHERE®" open software platform from Germany-based manufacturer Dallmeier, third party systems are consistently integrated with the objective of optimising data integration. Integration which is aligned exactly with the application required in each case efficiently filters, sorts, and localises data from other software infrastructures and merges it from the various sources in a HEMISPHERE® system. This approach enables very close integration of access control or intrusion alarm systems for example as "active objects" with a wide range of options for exchanging data and controlling the third-party systems from within HEMISPHERE®.

Large portfolio of deeply integrated interfaces
The integration takes place via the "HEMISPHERE® Data Interface Module" (DIM). DIM offers a wide variety of plugins which enable further processing of statuses and event messages originating from the connected systems and control commands in the other direction. They include plugins for standardised protocols in the realms of IoT/Industry 4.0 (e.g., MQTT, OPC UA) and building automation (BACnet, KNX) as well as various plugins for proprietary communication protocols. In the area of access control systems, for example, Grosvenor Sateon Advance, Interflex IF-6040, Paxton Net2 V6 or Software House C•CURE 9000 are already fully integrated in Dallmeier HEMISPHERE®. Regarding fire detection systems, a very wide range of fire detection systems can currently be integrated via Schraner SMARTRYX. Several different Point-of-Sale systems can also be integrated.

Additionally, the option also exists to send or retrieve events and alarms to or from Dallmeier HEMISPHERE® and so extend the integration to more applications and develop customer-specific interfaces. To this end, a path is available that passes through a standardised REST interface or an Active MQ Message Broker and supports the standard protocols commonly used in the sector, including OpenWire, STOMP, MQTT and WebSocket.

Faster response times and optimised processes
"For us, an open platform means first and foremost that we are open to the customer's specific problem. And to working out a solution for it as stated in our company motto "Making things easier". The various plugins in the HEMISPHERE® Data Interface Module make it possible for the connected systems to relay their statuses (e.g., door open/closed) and event messages (e.g., fire alarm, intrusion) to our HEMISPHERE® software for visualisation." says Norbert Niggemann, Director Software Development at Dallmeier. "Because of this deep integration, users then always see the right camara image automatically when there is an event originating from the intrusion alarm system, for example. With "Active Objects", the systems can be controlled simply via the HEMISPHERE® Active Objects Map. The advantages to the customer range from more rapid response times through adaptable and transparent workflows up to and including optimised security and business processes."
Further information: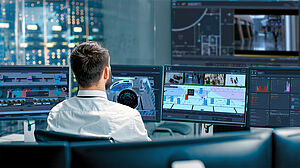 Dallmeier: Turn images into assets.
With pioneering video technology from Germany.
In 1984 Dieter Dallmeier founded what is now Dallmeier electronic – not in the proverbial garage, but in a garden shed in Regensburg, Germany. Today, the company, which can justifiably call itself a hidden champion for video information technology "Made in Germany", has several hundred employees worldwide, more than 250 of them at the company headquarters in the centre of Regensburg alone.
Our customers: From commercial enterprises to World Cup stadiums
Dallmeier's camera, recording, software, and analysis solutions optimise security and processes for B2B end customers in a wide range of industries in over 60 countries. The focus is on users from the casino, smart city, airports, logistics, stadiums, and industrial sectors. But also, banks, critical infrastructure facilities as well as medium-sized companies from all sectors.
Low total cost of ownership "Made in Germany"
With pioneering innovations, Dallmeier has succeeded time and again in placing itself at the forefront of technology: From the world's first digital image storage system with motion analysis in 1992, the patented "multifocal sensor technology" Panomera® with its "Mountera®" mounting system, to the latest Domera® camera family, which allows up to 300 camera variants with only 18 components. These and many other innovations provide real, tangible customer benefits. And with a low Total Cost of Ownership (TCO) and a high Return on Investment (ROI) they can easily compete with systems produced and supplied from low-wage countries.

Cybersecurity, data protection and ethical responsibility through maximum vertical integration
With 100% "Made in Germany", we also guarantee our customers the highest standards in data protection, cybersecurity, and ethical responsibility. With high quality and short supply chains, we also ensure – almost incidentally – sustainability and environmental protection. From our prestigious headquarters in the centre of Regensburg, Dallmeier not only carries out its own research and development but also the complete manufacturing process – from component to product to solution.

www.dallmeier.com
www.panomera.com