Press Release 11 January 2018
Dallmeier returns to ICE show with its innovative CAT system for live Gaming
Download Press Release and Illustrations
Dallmeier, a worldwide renowned solutions provider for the Casino Industry, is announcing its return to the ICE show, which will be held in London's ExCeL Exhibition Centre this coming 6-8th February.
Visit Dallmeier at stand S9-152!
Dallmeier's Casino Project Team will present their brand new innovativeCasino Automation Technology (CAT) at the coming gaming show dedicated to live gaming and table gaming automation. Recently the new system has successfully carried out numerous tests in live Casino environments and has proven to be an accurate, secure and market ready product.
CAT – Casino Automation Technology
The main function of CAT is overall Table Game tracking and real-time Player Rating and thus the system goes far beyond the mere monitoring of the gaming table.
The advanced system, developed by Dallmeier, was created to help the Casino operators to increase profits, mitigate risks, protect gaming table integrity, streamline operations via real-time data analysis, achieve gaming floor transparency and understand gaming table performance as well as reduce labour costs and minimize human fallibility. All these factors make this product an all in one monitoring, tracking, and analysing solution for table gaming.
Dallmeier's CAT is easy to integrate and install, doesn't require additional sensors, is not CMS system specific, does not depend on RFID technology (but can be integrated), interfaces and operates with any Smart dealing shoe, uses standard CCTV cameras and is not CCTV system specific.
During the last years Dallmeier has invested heavily in their R&D, aiming to develop the best solution for the gaming industry related to overall game tracking and real-time player analysis. The company has closely worked with its customers in developing their system, to be sure the product would best match the operators' needs and expectations. CAT is an overall Table Management System and the produced data can be used in many fields of the Casino operations, like Marketing, Gaming, Surveillance, to name but a few.
This will be the first time the CAT system is presented in Europe and Dallmeier's Casino Division team is looking forward to welcoming visitors at their stand n° S9-152.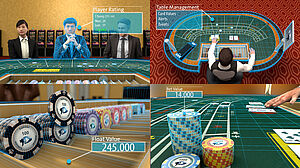 Dallmeier: Turn images into assets.
With pioneering video technology from Germany.
In 1984 Dieter Dallmeier founded what is now Dallmeier electronic – not in the proverbial garage, but in a garden shed in Regensburg, Germany. Today, the company, which can justifiably call itself a hidden champion for video information technology "Made in Germany", has several hundred employees worldwide, more than 250 of them at the company headquarters in the centre of Regensburg alone.
Our customers: From commercial enterprises to World Cup stadiums
Dallmeier's camera, recording, software, and analysis solutions optimise security and processes for B2B end customers in a wide range of industries in over 60 countries. The focus is on users from the casino, smart city, airports, logistics, stadiums, and industrial sectors. But also, banks, critical infrastructure facilities as well as medium-sized companies from all sectors.
Low total cost of ownership "Made in Germany"
With pioneering innovations, Dallmeier has succeeded time and again in placing itself at the forefront of technology: From the world's first digital image storage system with motion analysis in 1992, the patented "multifocal sensor technology" Panomera® with its "Mountera®" mounting system, to the latest Domera® camera family, which allows up to 300 camera variants with only 18 components. These and many other innovations provide real, tangible customer benefits. And with a low Total Cost of Ownership (TCO) and a high Return on Investment (ROI) they can easily compete with systems produced and supplied from low-wage countries.

Cybersecurity, data protection and ethical responsibility through maximum vertical integration
With 100% "Made in Germany", we also guarantee our customers the highest standards in data protection, cybersecurity, and ethical responsibility. With high quality and short supply chains, we also ensure – almost incidentally – sustainability and environmental protection. From our prestigious headquarters in the centre of Regensburg, Dallmeier not only carries out its own research and development but also the complete manufacturing process – from component to product to solution.

www.dallmeier.com
www.panomera.com