Press Release 18 February 2019
Dallmeier very pleased with response for its Smart Casino Solutions at ICE London 2019
Download Press Release and Illustrations
Fraud, high operating costs and scarce business intelligence data – these are the challenges the industry pioneer Dallmeier addressed with its "Smart Casino Solutions" on ICE London 2019. Dallmeier's combination of video technology and artificial intelligence (AI) to improve profitability of the three essential casino areas – gaming, surveillance, and marketing – led to an extremely positive response from ICE visitors.
Gaming: CAT for Blackjack turns the table into a slot machine
Dallmeier's Casino Automation Technology (CAT) is the first gaming automation system that is live in a productive environment. It is currently available for Baccarat and Blackjack and uses AI technologies and standard Full HD IP cameras to recognize chips and cards, provide real-time information about bet position and bet value, game pace and float value etc. CAT allows for a highly increased game pace, a much more effective protection from fraud and an accurate player rating, to name just a few key functionalities.
Konrad Hechtbauer, managing director of Dallmeier International, states: "We were especially happy to hear from our visitors that they appreciate our approach to build on established, existing technology – i.e. CCTV – and combine it with artificial intelligence applications. With CAT, we open up a treasure of data, that finally allow them to make much more informed decisions to maximize their profitability regarding table games."
Surveillance meets Business Intelligence: Casinos minimize their security costs with Panomera®
Many casinos still install huge numbers of PTZ and fisheye cameras, creating a more and more complex environment with questionable image quality and security effect. With the new 360-degree version of Dallmeier patented Panomera® camera technology, casino operators can cover much larger areas with the same number of operators while at the same time significantly improving overall security due to a 360-degree, high resolution view of the overall scene. In case of an incident, multiple operators can zoom in at the same time resolving complex scenarios – but without losing the overall picture both in live and recording as it is the case with PTZ cameras.
Konrad Hechtbauer states: "Despite all the great options that AI-based gaming automation technologies like our CAT system offer, casinos still have to fulfill their requirements for classical security and safety. With our new 360 degree solution, customers achieve their security goals better at a lower cost. And at the same time lay the foundation to use the very same cameras as "optical data sensors" for all sorts of business intelligence applications. Quite a few of our booth visitors told us that with Dallmeier's new 360-degree-version of the Panomera® camera technology, they finally see the chance to save their casinos money in a field that is commonly known as a 'cost driver'."
By intelligently combining video technology-based functions (e.g. people counting, crowd analysis, face recognition and many more) with AI based gaming automation technologies and other analysis techniques, casinos can significantly improve their overall profitability.
Konrad Hechtbauer explains: "Gathering, analyzing and understanding those data help casinos better plan their business and make more informed decisions based on the behavior and preferences of their visitors and players."
More information
Casion Solutions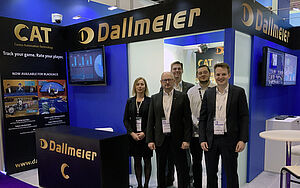 Dallmeier: Turn images into assets.
With pioneering video technology from Germany.
In 1984 Dieter Dallmeier founded what is now Dallmeier electronic – not in the proverbial garage, but in a garden shed in Regensburg, Germany. Today, the company, which can justifiably call itself a hidden champion for video information technology "Made in Germany", has several hundred employees worldwide, more than 250 of them at the company headquarters in the centre of Regensburg alone.
Our customers: From commercial enterprises to World Cup stadiums
Dallmeier's camera, recording, software, and analysis solutions optimise security and processes for B2B end customers in a wide range of industries in over 60 countries. The focus is on users from the casino, smart city, airports, logistics, stadiums, and industrial sectors. But also, banks, critical infrastructure facilities as well as medium-sized companies from all sectors.
Low total cost of ownership "Made in Germany"
With pioneering innovations, Dallmeier has succeeded time and again in placing itself at the forefront of technology: From the world's first digital image storage system with motion analysis in 1992, the patented "multifocal sensor technology" Panomera® with its "Mountera®" mounting system, to the latest Domera® camera family, which allows up to 300 camera variants with only 18 components. These and many other innovations provide real, tangible customer benefits. And with a low Total Cost of Ownership (TCO) and a high Return on Investment (ROI) they can easily compete with systems produced and supplied from low-wage countries.

Cybersecurity, data protection and ethical responsibility through maximum vertical integration
With 100% "Made in Germany", we also guarantee our customers the highest standards in data protection, cybersecurity, and ethical responsibility. With high quality and short supply chains, we also ensure – almost incidentally – sustainability and environmental protection. From our prestigious headquarters in the centre of Regensburg, Dallmeier not only carries out its own research and development but also the complete manufacturing process – from component to product to solution.

www.dallmeier.com
www.panomera.com