Press Release 15 March 2018
Discreet 360° all-round vision with Dallmeier MDF5400HD-DN IP Fisheye camera
Download Press Release and Illustrations
Discreet installation and best image quality with the Dallmeier MDF5400HD-DN Fisheye camera. The new network camera with fisheye lens enables 360° all-round vision in real time with no blind spots.
360°panoramic view and 8 megapixel resolution
The Dallmeier MDF5400HD-DN Fisheye is a network camera with a fisheye lens especially designed to work with the image sensor. The high resolution of the sensor in conjunction with the very latest encoder technology and sophisticated image processing together deliver image recording of exceptional quality with 8 megapixel resolution and a frame rate of up to 25/30 fps. This camera is therefore the ideal choice when an entire room has to be captured in detail with no blind spots and in real time. The rectified display of the live image and recordings from a MDF5400HD-DN is supported with a digital PTZ function by any workstation in the SeMSy® Video Management System. In smaller video security systems, convenient analysis with the SMAVIA Viewing Client video management software is the ideal option. Besides a PTZ function, the SMAVIA Viewing Client also supports the display of one rectified 360° panoramic view or two 180° views of half the room each.
Discreet installation
The Fisheye camera consists of one ultra-compact sensor housing designed for unobtrusive fitting in suspended ceilings. It can be installed in extremely small spaces together with the separate encoder housing and operated with an external power supply or with PoE Class 0.
Automatic switching between day and night modes
The camera is equipped with an ambient light sensor and a removable IR cut filter and can switch between day and night modes automatically. Different day and night presets can also be defined and adapted for the exposure settings.
Video Content Analysis
The integrated Video Content Analysis (VCA) detects movement and objects in the uncompressed image and analyses them in real time (depending on the analysis resolution) with highly advanced analysis functions such as Intrusion Detection or Line Crossing.
Further information:
Fisheye Camera MDF5400HD-DN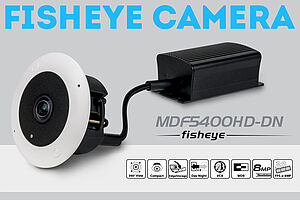 Dallmeier: Turn images into assets.
With pioneering video technology from Germany.
In 1984 Dieter Dallmeier founded what is now Dallmeier electronic – not in the proverbial garage, but in a garden shed in Regensburg, Germany. Today, the company, which can justifiably call itself a hidden champion for video information technology "Made in Germany", has several hundred employees worldwide, more than 250 of them at the company headquarters in the centre of Regensburg alone.
Our customers: From commercial enterprises to World Cup stadiums
Dallmeier's camera, recording, software, and analysis solutions optimise security and processes for B2B end customers in a wide range of industries in over 60 countries. The focus is on users from the casino, smart city, airports, logistics, stadiums, and industrial sectors. But also, banks, critical infrastructure facilities as well as medium-sized companies from all sectors.
Low total cost of ownership "Made in Germany"
With pioneering innovations, Dallmeier has succeeded time and again in placing itself at the forefront of technology: From the world's first digital image storage system with motion analysis in 1992, the patented "multifocal sensor technology" Panomera® with its "Mountera®" mounting system, to the latest Domera® camera family, which allows up to 300 camera variants with only 18 components. These and many other innovations provide real, tangible customer benefits. And with a low Total Cost of Ownership (TCO) and a high Return on Investment (ROI) they can easily compete with systems produced and supplied from low-wage countries.

Cybersecurity, data protection and ethical responsibility through maximum vertical integration
With 100% "Made in Germany", we also guarantee our customers the highest standards in data protection, cybersecurity, and ethical responsibility. With high quality and short supply chains, we also ensure – almost incidentally – sustainability and environmental protection. From our prestigious headquarters in the centre of Regensburg, Dallmeier not only carries out its own research and development but also the complete manufacturing process – from component to product to solution.

www.dallmeier.com
www.panomera.com