Press Release 10 November 2022
Privacy and security, utmost product quality and low total cost of ownership for security customers
Securiton and Dallmeier announce partnership in Switzerland
Download Press Release and Illustrations here
Regensburg (Germany), 10 November 2022 – Securiton AG Switzerland is now integrating the Panomera® and Domera® camera systems from Dallmeier electronic GmbH & Co. KG. Thanks to the German manufacturer's consistent "Made in Germany" strategy, Securiton AG customers benefit from the highest standards of privacy and security. The high quality and patented technology of Dallmeier cameras also ensure maximum security performance, a long service life and low total cost of ownership (TCO).

With currently over 760 employees at 28 locations, Securiton AG Switzerland, founded in 1948, is an expert integrator offering holistic security solutions for fire protection, intrusion protection, access control, video surveillance, security management and mobile property protection. In the field of video security, the company has now decided to integrate the German manufacturer's Panomera® and Domera® camera families into its portfolio. The focus is particularly on the markets of commercial and industrial customers of all sizes, critical infrastructure, and the military, but also sports facilities, logistics companies and many other industries in the B2B sector.

"Made in Germany" and integration into video management systems
For 38 years Dallmeier has consistently relied on "Made in Germany". Therefore, the entire software and hardware development as well as the complete manufacturing of the products takes place at the Dallmeier HQ site in Regensburg, Bavaria. This ensures maximum depth of development and manufacturing and guarantees the highest standards both in product quality and in the important topics of data protection, cybersecurity, and ethical responsibility. Deep integration of Dallmeier cameras into third-party VMS systems such as Milestone XProtect® also ensures that the solutions can be individually and flexibly adapted to customer environments.

Low TCO with maximum security
The patented Panomera® multifocal sensor cameras will form the core of many Securiton solutions. By combining several video sensors with different focal lengths, Panomera® reduces the number of cameras required many times over compared to conventional solutions. The result is a unique cost-benefit ratio through perfect overview and lower total cost of ownership.

But also, the recently introduced Domera® camera family has it all: thanks to a sophisticated, modular system, the experts at Securiton can cover over 90% of all common video security requirements with just a few components. Fine adjustment and readjustment can be carried out remotely (Dallmeier RPoD-Remote Positioning Dome), mounting is standardised and requires only one tool. The highest image quality and modern analysis functions also ensure maximum safety performance with the Domera® systems. Just as with the Panomera® systems, the modular design and easy handling of the Domera® system ensure savings in all project areas – from implementation to infrastructure and civil engineering to ongoing operating costs.

"Our customers are increasingly concerned with the effects of the global political situation and the resulting new threat scenarios – key words cybersecurity and data protection. Against the backdrop of increasingly faltering supply chains, the manufacturer with 'Made in Germany' not only offers our customers qualitative advantages", says Thomas Adler, Key Account Manager at Securiton. "Against this background, the partnership with Dallmeier marks a milestone for us. In addition to the absolutely convincing quality at a favourable total cost of ownership – even compared to products from low-wage countries – our customers can rely on guaranteed highest standards in cybersecurity, data protection and ethics with the Panomera® cameras from Dallmeier."

"The Swiss market has always been of great importance to Dallmeier and makes a significant contribution to our business. At the same time, the high requirements have always been an incentive for us to further optimise our solutions. The most recent example of this is the inclusion of the criterion of sustainability in public tenders, an absolute pioneering achievement", says Christian Linthaler, Sales Director National and International at Dallmeier. "We are all the more pleased about the partnership with Securiton. Together we offer our customers a high, unprecedented added value of the highest solution quality in combination with security, sustainability and ethical responsibility."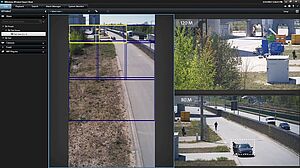 Dallmeier: Turn images into assets.
With pioneering video technology from Germany.
In 1984 Dieter Dallmeier founded what is now Dallmeier electronic – not in the proverbial garage, but in a garden shed in Regensburg, Germany. Today, the company, which can justifiably call itself a hidden champion for video information technology "Made in Germany", has several hundred employees worldwide, more than 250 of them at the company headquarters in the centre of Regensburg alone.
Our customers: From commercial enterprises to World Cup stadiums
Dallmeier's camera, recording, software, and analysis solutions optimise security and processes for B2B end customers in a wide range of industries in over 60 countries. The focus is on users from the casino, smart city, airports, logistics, stadiums, and industrial sectors. But also, banks, critical infrastructure facilities as well as medium-sized companies from all sectors.
Low total cost of ownership "Made in Germany"
With pioneering innovations, Dallmeier has succeeded time and again in placing itself at the forefront of technology: From the world's first digital image storage system with motion analysis in 1992, the patented "multifocal sensor technology" Panomera® with its "Mountera®" mounting system, to the latest Domera® camera family, which allows up to 300 camera variants with only 18 components. These and many other innovations provide real, tangible customer benefits. And with a low Total Cost of Ownership (TCO) and a high Return on Investment (ROI) they can easily compete with systems produced and supplied from low-wage countries.

Cybersecurity, data protection and ethical responsibility through maximum vertical integration
With 100% "Made in Germany", we also guarantee our customers the highest standards in data protection, cybersecurity, and ethical responsibility. With high quality and short supply chains, we also ensure – almost incidentally – sustainability and environmental protection. From our prestigious headquarters in the centre of Regensburg, Dallmeier not only carries out its own research and development but also the complete manufacturing process – from component to product to solution.

www.dallmeier.com
www.panomera.com