Press Release 16 December 2021
Österreichisches Gütesiegel für Nachhaltigkeit und Zukunftsorientierung
Dallmeier erhält Zertifizierung als "Sport Leading Company"
Download Press Release and Illustrations here
Regensburg, 16. Dezember 2021 – Der Regensburger Videotechnik-Hersteller Dallmeier erhält die Zertifizierung zur "Sport Leading Company". Mit der Zertifizierung steht Kunden und Entscheidern ein neutraler Bewertungsrahmen zur Verfügung für Unternehmen, die die Themen Sport und Wirtschaft in Österreich qualitativ hochwertig vorantreiben.

Dallmeier electronic ist Entwickler und Hersteller von Lösungen für Videosicherheits- und Videoprozesstechnik für Sportstätten und Sportanlagen aller Art und Größe. Zu seinem Stadion-Kunden zählen zahlreiche Stadien in der deutschen Bundesliga oder der englischen Premier League, die Merkur Arena Graz aber auch kleine und mittlere Sportanlagen wie etwa die Surfanlage CityWave Austria.

Herausforderungen lösen – wirtschaftlich und nachhaltig
Die Auszeichnung als Sport Leading Company der PP Sport Management GmbH in Zusammenarbeit mit Österreichs Sportökonomischem Institut (SpEA) stellt Unternehmen im Sportbereich in den Mittelpunkt, die besonderen Maßstäbe und Leistungen setzen und über ein nachhaltiges und zukunftsorientiertes Geschäftsmodell verfügen. Das Ziel der Zertifizierung ist, Wirtschaft und Sport noch enger zu vernetzen. Um das Gütesiegel zu bekommen, werden unter anderem Leitbild, Marketingauftritt, Mitarbeiteraus- und -weiterbildungen, Internationalisierungsquote und standortrelevante Parameter als Beurteilungskriterien herangezogen.

"Wir freuen uns sehr über die Zertifizierung mit diesem wichtigen österreichischen Gütesiegel. Österreich ist als führende Sportnation prädestiniert für höchste Anforderungen an Qualität und Nachhaltigkeit, aber auch für die Berücksichtigung ethischer Aspekte und Umweltschutzbelange," so Christian Linthaler, Head of Sales Austria & Switzerland, Dallmeier. "Die Auszeichnung hat für uns deshalb auch weit über den österreichischen Markt hinaus Bedeutung. Als Qualitätssiegel bestätigt sie unsere Strategie, der wir seit über 35 Jahren treu sind: Nicht die auf den ersten Blick billigste Lösung in den Markt zu bringen, sondern diejenige, die die Herausforderungen unserer Kunden auf nachhaltige, langfristig wirtschaftlich sowie ethisch und moralisch vertretbare Weise löst."

Hohe Fertigungstiefe passt zum Wertekanon
"Dallmeier bietet herausragende und sichere Videotechnologie-Lösungen für eine Vielzahl von Sportstätten. Die Auszeichnung zur "Sport Leading Company" zertifiziert darüber hinaus die Werte Leadership, Verantwortung, Empathie und Wertschätzung, die bei Unternehmen, Partnern und Kunden nachhaltig wirken," so Anton Pichler, Geschäftsführer der PP Sport Management GmbH. "Als europäischer Hersteller mit einer Entwicklungs- und Fertigungstiefe von deutlich über 90 % und einer klaren, innovativen Produktstrategie "Made in Germany" ist Dallmeier electronic im Wertekanon der "Sport Leading Company"-Gemeinschaft deshalb sehr gut aufgehoben."

Weitere Informationen: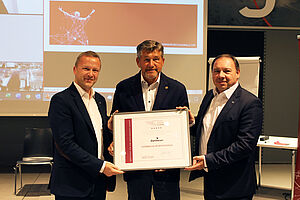 Dallmeier: Turn images into assets.
With pioneering video technology from Germany.
In 1984 Dieter Dallmeier founded what is now Dallmeier electronic – not in the proverbial garage, but in a garden shed in Regensburg, Germany. Today, the company, which can justifiably call itself a hidden champion for video information technology "Made in Germany", has several hundred employees worldwide, more than 250 of them at the company headquarters in the centre of Regensburg alone.
Our customers: From commercial enterprises to World Cup stadiums
Dallmeier's camera, recording, software, and analysis solutions optimise security and processes for B2B end customers in a wide range of industries in over 60 countries. The focus is on users from the casino, smart city, airports, logistics, stadiums, and industrial sectors. But also, banks, critical infrastructure facilities as well as medium-sized companies from all sectors.
Low total cost of ownership "Made in Germany"
With pioneering innovations, Dallmeier has succeeded time and again in placing itself at the forefront of technology: From the world's first digital image storage system with motion analysis in 1992, the patented "multifocal sensor technology" Panomera® with its "Mountera®" mounting system, to the latest Domera® camera family, which allows up to 300 camera variants with only 18 components. These and many other innovations provide real, tangible customer benefits. And with a low Total Cost of Ownership (TCO) and a high Return on Investment (ROI) they can easily compete with systems produced and supplied from low-wage countries.

Cybersecurity, data protection and ethical responsibility through maximum vertical integration
With 100% "Made in Germany", we also guarantee our customers the highest standards in data protection, cybersecurity, and ethical responsibility. With high quality and short supply chains, we also ensure – almost incidentally – sustainability and environmental protection. From our prestigious headquarters in the centre of Regensburg, Dallmeier not only carries out its own research and development but also the complete manufacturing process – from component to product to solution.

www.dallmeier.com
www.panomera.com