Press Release 16 December 2021
Press Release 16 December 2021
Österreichisches Gütesiegel für Nachhaltigkeit und Zukunftsorientierung
Dallmeier erhält Zertifizierung als "Sport Leading Company"
Download Press Release and Illustrations here
Regensburg, 16. Dezember 2021 – Der Regensburger Videotechnik-Hersteller Dallmeier erhält die Zertifizierung zur "Sport Leading Company". Mit der Zertifizierung steht Kunden und Entscheidern ein neutraler Bewertungsrahmen zur Verfügung für Unternehmen, die die Themen Sport und Wirtschaft in Österreich qualitativ hochwertig vorantreiben.

Dallmeier electronic ist Entwickler und Hersteller von Lösungen für Videosicherheits- und Videoprozesstechnik für Sportstätten und Sportanlagen aller Art und Größe. Zu seinem Stadion-Kunden zählen zahlreiche Stadien in der deutschen Bundesliga oder der englischen Premier League, die Merkur Arena Graz aber auch kleine und mittlere Sportanlagen wie etwa die Surfanlage CityWave Austria.

Herausforderungen lösen – wirtschaftlich und nachhaltig
Die Auszeichnung als Sport Leading Company der PP Sport Management GmbH in Zusammenarbeit mit Österreichs Sportökonomischem Institut (SpEA) stellt Unternehmen im Sportbereich in den Mittelpunkt, die besonderen Maßstäbe und Leistungen setzen und über ein nachhaltiges und zukunftsorientiertes Geschäftsmodell verfügen. Das Ziel der Zertifizierung ist, Wirtschaft und Sport noch enger zu vernetzen. Um das Gütesiegel zu bekommen, werden unter anderem Leitbild, Marketingauftritt, Mitarbeiteraus- und -weiterbildungen, Internationalisierungsquote und standortrelevante Parameter als Beurteilungskriterien herangezogen.

"Wir freuen uns sehr über die Zertifizierung mit diesem wichtigen österreichischen Gütesiegel. Österreich ist als führende Sportnation prädestiniert für höchste Anforderungen an Qualität und Nachhaltigkeit, aber auch für die Berücksichtigung ethischer Aspekte und Umweltschutzbelange," so Christian Linthaler, Head of Sales Austria & Switzerland, Dallmeier. "Die Auszeichnung hat für uns deshalb auch weit über den österreichischen Markt hinaus Bedeutung. Als Qualitätssiegel bestätigt sie unsere Strategie, der wir seit über 35 Jahren treu sind: Nicht die auf den ersten Blick billigste Lösung in den Markt zu bringen, sondern diejenige, die die Herausforderungen unserer Kunden auf nachhaltige, langfristig wirtschaftlich sowie ethisch und moralisch vertretbare Weise löst."

Hohe Fertigungstiefe passt zum Wertekanon
"Dallmeier bietet herausragende und sichere Videotechnologie-Lösungen für eine Vielzahl von Sportstätten. Die Auszeichnung zur "Sport Leading Company" zertifiziert darüber hinaus die Werte Leadership, Verantwortung, Empathie und Wertschätzung, die bei Unternehmen, Partnern und Kunden nachhaltig wirken," so Anton Pichler, Geschäftsführer der PP Sport Management GmbH. "Als europäischer Hersteller mit einer Entwicklungs- und Fertigungstiefe von deutlich über 90 % und einer klaren, innovativen Produktstrategie "Made in Germany" ist Dallmeier electronic im Wertekanon der "Sport Leading Company"-Gemeinschaft deshalb sehr gut aufgehoben."

Weitere Informationen: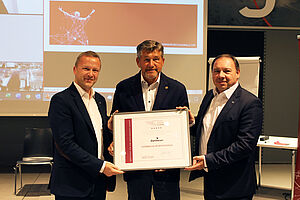 Dallmeier is the only manufacturer of video security technology that develops and manufactures all components in Germany. This includes the entire product range, from cameras to picture storage and transmission to intelligent video analysis and even individually adjusted management software. Quality made by Dallmeier, made in Germany!
Dallmeier has at its disposal more than 35 years of experience in transmission, recording as well as picture processing technology and is a leading pioneer of CCTV/IP solutions worldwide. This profound knowledge is used in the development of intelligent software and high-quality recorder and camera technologies enabling Dallmeier to not only offer stand-alone systems, but complete network solutions up to large-scale projects with perfectly integrated component. Right from the beginning the company always focused on own innovative developments and highest quality and reliability.
Over the years, Dallmeier has repeatedly given fresh impetus to the market with new developments and extraordinary innovations. The world's first DVR for example, which introduced digital recording to the entire CCTV industry more than 25 years ago, came from Dallmeier. The introduction of the patented multifocal sensor system Panomera® has had a similarly ground-breaking effect, ushering in a new era for the industry. This unique camera technology is revolutionising the market and opening up completely new possibilities for securing assets, optimising business operations and ensuring public safety. This and the extensive experience in the CCTV and IP field have led to a top position in the international market for digital video surveillance systems.