Press Release 15 July 2021
Optimum service for the important Austrian market
Dallmeier electronic opens branch office in Vienna
Download Press Release and Illustrations here
Regensburg (Germany), 15 July 2021 – The Austrian market for video security technology is booming. And the demand specifically for the "Made in Germany" mark of quality in the country next door has never been higher. To do justice to this market trend and at the same time deliver its expertise to customers and partners as immediately as possible, last month the Regensburg-based Dallmeier enterprise opened a branch of its main office in Brunn am Gebirge, a suburb of the Austrian capital city Vienna.
"One Face to the Customer and Partner" – directly on site
Many businesses and organisations in industry, finance, as well as government authorities have already been relying on the patented systems from the video technology pioneer for over three decades now. With its branch office in Vienna, Dallmeier is bringing the customary advantages of its solution and service portfolio still closer to its Austrian customers and partners.

Short paths and an integrated offering
Experts from the Dallmeier office in Vienna offer customers and partners access to the expertise and resources of the Dallmeier main office for the duration of the entire project cycle: From consulting via the 3D planning service, with which customers and partners can define all the details of their intended system with the aid of a "digital twin" even before the project starts, through the Factory Acceptance Test, which tests the whole system rigorously before it is delivered, and on to support during operation. Besides its customers and partners all over Austria, the Dallmeier branch office in Vienna will also service Switzerland and the bordering countries of Hungary, Slovenia, Slovakia, Croatia, Serbia, and Montenegro.

"Besides our patented Panomera® multifocal sensor cameras, with which customers can meet their objectives with considerably fewer systems, thereby saving significantly on infrastructure and operating costs, the HEMISPHERE® open software platform offers our users a particular additional benefit. Thanks to their modular design, the video security solutions can be tailored precisely to the individual application in each case." explains Christian Linthaler, Head of Sales Austria & Switzerland. "With our new branch office just outside of Vienna, we guarantee that customers and installers also have the highest level of expertise at their disposal when implementing more complex environments – with support designed specifically to address their situation and wishes.""
Contact at Dallmeier Office Vienna
Am Campus 21
Liebermannstraße A01
2345 Brunn am Gebirge
Topeinheit A01/304-5
Austria
Christian Linthaler
christian.linthaler@ dallmeier.com
Tel.: +49 941 8700-541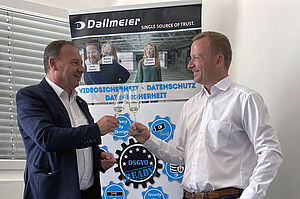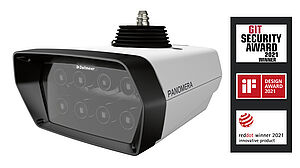 Dallmeier: Turn images into assets.
With pioneering video technology from Germany.
In 1984 Dieter Dallmeier founded what is now Dallmeier electronic – not in the proverbial garage, but in a garden shed in Regensburg, Germany. Today, the company, which can justifiably call itself a hidden champion for video information technology "Made in Germany", has several hundred employees worldwide, more than 250 of them at the company headquarters in the centre of Regensburg alone.
Our customers: From commercial enterprises to World Cup stadiums
Dallmeier's camera, recording, software, and analysis solutions optimise security and processes for B2B end customers in a wide range of industries in over 60 countries. The focus is on users from the casino, smart city, airports, logistics, stadiums, and industrial sectors. But also, banks, critical infrastructure facilities as well as medium-sized companies from all sectors.
Low total cost of ownership "Made in Germany"
With pioneering innovations, Dallmeier has succeeded time and again in placing itself at the forefront of technology: From the world's first digital image storage system with motion analysis in 1992, the patented "multifocal sensor technology" Panomera® with its "Mountera®" mounting system, to the latest Domera® camera family, which allows up to 300 camera variants with only 18 components. These and many other innovations provide real, tangible customer benefits. And with a low Total Cost of Ownership (TCO) and a high Return on Investment (ROI) they can easily compete with systems produced and supplied from low-wage countries.

Cybersecurity, data protection and ethical responsibility through maximum vertical integration
With 100% "Made in Germany", we also guarantee our customers the highest standards in data protection, cybersecurity, and ethical responsibility. With high quality and short supply chains, we also ensure – almost incidentally – sustainability and environmental protection. From our prestigious headquarters in the centre of Regensburg, Dallmeier not only carries out its own research and development but also the complete manufacturing process – from component to product to solution.

www.dallmeier.com
www.panomera.com