Press Release 24 October 2019
Dallmeier bietet Videosicherheitslösungen ab sofort im Mietmodell Höchste Flexibilität und minimaler Betriebsaufwand beim Endkunden durch "All-In"
Pressemitteilung und Illustrationen herunterladen
Regensburg, 24.10.2019 – Von Privatunternehmen aller Branchen bis hin zu öffentlichen Auftraggebern profitieren Organisationen heute vom Einsatz moderner Videosicherheitslösungen. Um Eintrittsbarrieren durch hohe Anfangsinvestitionen und mangelnde Flexibilität zu reduzieren, bietet das Regensburger Unternehmen Dallmeier seine Kamera-, Aufzeichnungs- und Software-Lösungen ab sofort auch im flexiblen Mietmodell an, das bis hin zum komplett ausgelagerten Betrieb der Systeme reicht.
Von geringerem Warenverlust durch optimale Perimeterabsicherung bis hin zu mehr Sicherheit auf öffentlichen Plätzen reichen die Vorteile moderner Videosicherheitslösungen. Viele Kunden schrecken aber vor dem einmaligem Kapitaleinsatz bei der Beschaffung von Hard- und Software und dem oft nicht einfach zu überschauenden Betrieb der Systeme in Eigenregie zurück.
Miete einzelner Komponenten oder komplett ausgelagerter Betrieb
Dallmeier bietet deshalb seinen Kunden ab sofort ein flexibles "All-In"-Mietmodell für seine Systeme an. Dabei kann der Kunde frei bestimmen, ob er z. B. lediglich die Hard- und Softwarekomponenten mietet und das System dann selbst oder über einen Errichter betreibt, oder ob er den gesamten Betrieb der Anlage inklusive aller Wartungs-, Service-, Garantie- und Versicherungsleistungen an die Experten von Dallmeier auslagern möchte. Das Mietmodell steht ab sofort für Kunden in Deutschland, Österreich und den Niederlanden zur Verfügung. Weitere EU-Staaten sowie Drittländer werden im Jahr 2020 folgen.
Schonung der Liquidität und klare Kostenplanung
Einer der großen Vorteile des Mietmodells ist natürlich die Schonung der Liquidität, da hohe Einstandskosten wegfallen. Zudem kann der Kunde Service-, Wartungs- und Versicherungsleistungen auslagern, wodurch eigene Personalressourcen geschont bzw. nicht vorhandenes Spezial-Know-how kompensiert wird. Beim Dallmeier-Mietmodell liegt es zudem alleine beim Kunden, über welche Laufzeit das System gemietet werden soll, ebenso stehen unterschiedliche Rückgabemodalitäten zur Verfügung. Damit ist maximale Flexibilität bei der Beschaffung sichergestellt und der Kunde verfügt über eine klar kalkulierte Grundlage für seine Wirtschaftlichkeitsbetrachtung.
"Unternehmen und Organisationen erwarten zunehmend auch im Security-Bereich die Flexibilität und Betriebs-Optionen, die sie in der klassischen IT mit XaaS-Modellen bereits seit längerem gewohnt sind," so Dieter Dallmeier, Founder und CEO, Dallmeier. "Mit unserem neuen Mietmodell bilden wir genau diese Anforderungen ab, indem wir maßgeschneiderte Lösungen zu flexiblen Mietkonditionen anbieten, so dass der Kunde die für ihn optimale Kombination aus Investitions- und Betriebskosten, Laufzeiten und Serviceleistungen erhält."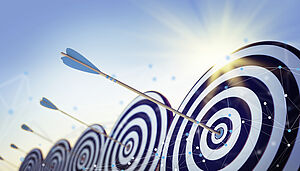 Dallmeier: Turn images into assets.
With pioneering video technology from Germany.
In 1984 Dieter Dallmeier founded what is now Dallmeier electronic – not in the proverbial garage, but in a garden shed in Regensburg, Germany. Today, the company, which can justifiably call itself a hidden champion for video information technology "Made in Germany", has several hundred employees worldwide, more than 250 of them at the company headquarters in the centre of Regensburg alone.
Our customers: From commercial enterprises to World Cup stadiums
Dallmeier's camera, recording, software, and analysis solutions optimise security and processes for B2B end customers in a wide range of industries in over 60 countries. The focus is on users from the casino, smart city, airports, logistics, stadiums, and industrial sectors. But also, banks, critical infrastructure facilities as well as medium-sized companies from all sectors.
Low total cost of ownership "Made in Germany"
With pioneering innovations, Dallmeier has succeeded time and again in placing itself at the forefront of technology: From the world's first digital image storage system with motion analysis in 1992, the patented "multifocal sensor technology" Panomera® with its "Mountera®" mounting system, to the latest Domera® camera family, which allows up to 300 camera variants with only 18 components. These and many other innovations provide real, tangible customer benefits. And with a low Total Cost of Ownership (TCO) and a high Return on Investment (ROI) they can easily compete with systems produced and supplied from low-wage countries.

Cybersecurity, data protection and ethical responsibility through maximum vertical integration
With 100% "Made in Germany", we also guarantee our customers the highest standards in data protection, cybersecurity, and ethical responsibility. With high quality and short supply chains, we also ensure – almost incidentally – sustainability and environmental protection. From our prestigious headquarters in the centre of Regensburg, Dallmeier not only carries out its own research and development but also the complete manufacturing process – from component to product to solution.

www.dallmeier.com
www.panomera.com