Press Release 24 October 2019
Press Release 24 October 2019
Dallmeier bietet Videosicherheitslösungen ab sofort im Mietmodell Höchste Flexibilität und minimaler Betriebsaufwand beim Endkunden durch "All-In"
Pressemitteilung und Illustrationen herunterladen
Regensburg, 24.10.2019 – Von Privatunternehmen aller Branchen bis hin zu öffentlichen Auftraggebern profitieren Organisationen heute vom Einsatz moderner Videosicherheitslösungen. Um Eintrittsbarrieren durch hohe Anfangsinvestitionen und mangelnde Flexibilität zu reduzieren, bietet das Regensburger Unternehmen Dallmeier seine Kamera-, Aufzeichnungs- und Software-Lösungen ab sofort auch im flexiblen Mietmodell an, das bis hin zum komplett ausgelagerten Betrieb der Systeme reicht.
Von geringerem Warenverlust durch optimale Perimeterabsicherung bis hin zu mehr Sicherheit auf öffentlichen Plätzen reichen die Vorteile moderner Videosicherheitslösungen. Viele Kunden schrecken aber vor dem einmaligem Kapitaleinsatz bei der Beschaffung von Hard- und Software und dem oft nicht einfach zu überschauenden Betrieb der Systeme in Eigenregie zurück.
Miete einzelner Komponenten oder komplett ausgelagerter Betrieb
Dallmeier bietet deshalb seinen Kunden ab sofort ein flexibles "All-In"-Mietmodell für seine Systeme an. Dabei kann der Kunde frei bestimmen, ob er z. B. lediglich die Hard- und Softwarekomponenten mietet und das System dann selbst oder über einen Errichter betreibt, oder ob er den gesamten Betrieb der Anlage inklusive aller Wartungs-, Service-, Garantie- und Versicherungsleistungen an die Experten von Dallmeier auslagern möchte. Das Mietmodell steht ab sofort für Kunden in Deutschland, Österreich und den Niederlanden zur Verfügung. Weitere EU-Staaten sowie Drittländer werden im Jahr 2020 folgen.
Schonung der Liquidität und klare Kostenplanung
Einer der großen Vorteile des Mietmodells ist natürlich die Schonung der Liquidität, da hohe Einstandskosten wegfallen. Zudem kann der Kunde Service-, Wartungs- und Versicherungsleistungen auslagern, wodurch eigene Personalressourcen geschont bzw. nicht vorhandenes Spezial-Know-how kompensiert wird. Beim Dallmeier-Mietmodell liegt es zudem alleine beim Kunden, über welche Laufzeit das System gemietet werden soll, ebenso stehen unterschiedliche Rückgabemodalitäten zur Verfügung. Damit ist maximale Flexibilität bei der Beschaffung sichergestellt und der Kunde verfügt über eine klar kalkulierte Grundlage für seine Wirtschaftlichkeitsbetrachtung.
"Unternehmen und Organisationen erwarten zunehmend auch im Security-Bereich die Flexibilität und Betriebs-Optionen, die sie in der klassischen IT mit XaaS-Modellen bereits seit längerem gewohnt sind," so Dieter Dallmeier, Founder und CEO, Dallmeier. "Mit unserem neuen Mietmodell bilden wir genau diese Anforderungen ab, indem wir maßgeschneiderte Lösungen zu flexiblen Mietkonditionen anbieten, so dass der Kunde die für ihn optimale Kombination aus Investitions- und Betriebskosten, Laufzeiten und Serviceleistungen erhält."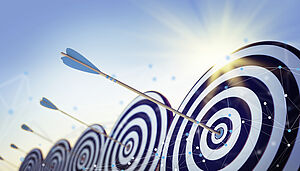 Dallmeier is the only manufacturer of video security technology that develops and manufactures all components in Germany. This includes the entire product range, from cameras to picture storage and transmission to intelligent video analysis and even individually adjusted management software. Quality made by Dallmeier, made in Germany!
Dallmeier has at its disposal more than 35 years of experience in transmission, recording as well as picture processing technology and is a leading pioneer of CCTV/IP solutions worldwide. This profound knowledge is used in the development of intelligent software and high-quality recorder and camera technologies enabling Dallmeier to not only offer stand-alone systems, but complete network solutions up to large-scale projects with perfectly integrated component. Right from the beginning the company always focused on own innovative developments and highest quality and reliability.
Over the years, Dallmeier has repeatedly given fresh impetus to the market with new developments and extraordinary innovations. The world's first DVR for example, which introduced digital recording to the entire CCTV industry more than 25 years ago, came from Dallmeier. The introduction of the patented multifocal sensor system Panomera® has had a similarly ground-breaking effect, ushering in a new era for the industry. This unique camera technology is revolutionising the market and opening up completely new possibilities for securing assets, optimising business operations and ensuring public safety. This and the extensive experience in the CCTV and IP field have led to a top position in the international market for digital video surveillance systems.