Press Release 12 December 2019
Dallmeier Systems eröffnet Niederlassung in Hamburg Kompetente Kundenbetreuung vor Ort
Pressemitteilung und Illustrationen herunterladen
Regensburg, 12. Dezember 2019– Gerade in Ballungsgebieten die kompetente Kundenbetreuung vor Ort sicherzustellen gilt auf dem Markt für erklärungsbedürftige Video-Sicherheitslösungen als große Herausforderung. Um dieser zu begegnen, hat Dallmeier vor einem Jahr unter der Marke "Dallmeier Systems" eigene Integrations- und Serviceunternehmen gegründet. Aufgrund der sehr positiven Kundenresonanz auf die Standorte München und Gladbeck, öffnet 2020 Dallmeier Systems in Hamburg.

Eine ehemalige Schokoladenfabrik als Brücke nach Regensburg
Ab Anfang 2020 bietet die Dallmeier Systems in Hamburg auch Kunden im norddeutschen Raum die bewährten Vorteile eines allumfassenden, kundenorientierten Lösungs- und Service-Portfolios. Seinen Kunden und Mitarbeitern bietet Dallmeier Systems im Gebäude einer alten Schokoladenfabrik ein modern gestaltetes Arbeitsumfeld. Dabei profitieren die Kunden von der direkten Vernetzung mit der Regensburger Unternehmenszentrale.

Das komplette Paket trotz räumlicher Distanz
Durch die enge Zusammenarbeit mit Dallmeier in Regensburg und einem regionalen Ansprechpartner vor Ort, der den Kunden über das gesamte Projekt hinweg begleitet, stellt Dallmeier Systems klare Verantwortlichkeiten von Anfang an sicher.

"Von der Beratung und 3D-Planung, über bewährte FAT (Factory Acceptance Test)-Verfahren bis hin zur Implementierung und dem Support von Videosicherheitsprojekten – bei Dallmeier Systems profitieren unsere norddeutschen Kunden von allen Vorteilen, die das Mutterhaus bietet", erklärt André Haack, Geschäftsführer Dallmeier Systems GmbH in Hamburg.

Mit dem Mietmodell zu mehr Wirtschaftlichkeit
Die Kunden haben auch bei der Dallmeier Systems Hamburg die Wahl, ihre Dallmeier Lösung zu kaufen oder das kürzlich eingeführte Mietmodell zu nutzen, um so die Liquidität zu schonen. Dabei kann der Kunde frei bestimmen, ob er z. B. lediglich die Hard- und Softwarekomponenten mietet und das System dann selbst oder über einen Errichter betreibt. Alternativ ist es auch möglich, den Betrieb der Anlage inklusive aller Wartungs-, Service-, Garantie- und Versicherungsleistungen an die Experten von Dallmeier auszulagern.
Weitere Informationen:
Adresse Dallmeier Systems Hamburg:
Dallmeier Systems – HAMBURG
Borsteler Bogen 27b
22453 Hamburg

Kontakt: André Haack
andre.haack@ d-systems.com
Tel.: +49 40 63744798
Fax: +49 40 63743984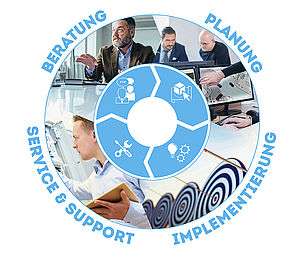 Dallmeier: Turn images into assets.
With pioneering video technology from Germany.
In 1984 Dieter Dallmeier founded what is now Dallmeier electronic – not in the proverbial garage, but in a garden shed in Regensburg, Germany. Today, the company, which can justifiably call itself a hidden champion for video information technology "Made in Germany", has several hundred employees worldwide, more than 250 of them at the company headquarters in the centre of Regensburg alone.
Our customers: From commercial enterprises to World Cup stadiums
Dallmeier's camera, recording, software, and analysis solutions optimise security and processes for B2B end customers in a wide range of industries in over 60 countries. The focus is on users from the casino, smart city, airports, logistics, stadiums, and industrial sectors. But also, banks, critical infrastructure facilities as well as medium-sized companies from all sectors.
Low total cost of ownership "Made in Germany"
With pioneering innovations, Dallmeier has succeeded time and again in placing itself at the forefront of technology: From the world's first digital image storage system with motion analysis in 1992, the patented "multifocal sensor technology" Panomera® with its "Mountera®" mounting system, to the latest Domera® camera family, which allows up to 300 camera variants with only 18 components. These and many other innovations provide real, tangible customer benefits. And with a low Total Cost of Ownership (TCO) and a high Return on Investment (ROI) they can easily compete with systems produced and supplied from low-wage countries.

Cybersecurity, data protection and ethical responsibility through maximum vertical integration
With 100% "Made in Germany", we also guarantee our customers the highest standards in data protection, cybersecurity, and ethical responsibility. With high quality and short supply chains, we also ensure – almost incidentally – sustainability and environmental protection. From our prestigious headquarters in the centre of Regensburg, Dallmeier not only carries out its own research and development but also the complete manufacturing process – from component to product to solution.

www.dallmeier.com
www.panomera.com