Press Release 6 August 2020
New Dallmeier module camera: AI-based object classification even in difficult light conditions Compact camera with H.265 and "VCA + AI"
Download Press Release and Illustrations here
Regensburg, 6 August 2020 – Dallmeier electronic, one of the world's leading manufacturers of video information systems, presents its new module camera "MDF5250HD-DN". The latest model in the Dallmeier 5000 camera series has excellent low-light characteristics. This guarantees high detail resolution and colour accuracy even in poor light conditions. The capability to perform AI-based object classification is provided even at the encoder level. At the same time, the camera enables reduced data rates due to H.265 video compression.

High-end technology in a compact format
Compared with conventional models, the MDF5250HD-DN offers considerable advantages in terms of discretion, space requirement and flexibility as the encoder housing and the sensor are separate from each other. The ultracompact sensor housing means that users can install the latest module camera from Dallmeier even in the tightest of spaces. Possible fields of application thus include cash dispensers, retail or petrol stations, for example.

First-class images – even in difficult light conditions
The camera has both a day and a night mode. If HDR mode is activated, the sensor functions within a dynamic range up to 120 dB. In combination with the high light sensitivity of 0.002 lux and the innovative image processing, this enables clear recordings with unmatched contrast and the highest detail resolutions and colour accuracy even in difficult light conditions.

Low data rate together with high resolution? H.265 video compression makes it possible
The MDF5250HD-DN delivers frame rates of up to 100 fps with a resolution of 1080p (Full HD). This typically demand correspondingly high bandwidths and large storage space capacities. Thanks to H.265 video compression, the data rate is reduced by as much as 50% compared to H.264 – with no loss of resolution or image quality. Its use in combination with Dallmeier recording systems also enables users to reduce network and storage loads further.

Improved Video Content Analysis (VCA) thanks to neural networks
Besides the low data rate, the innovative encoder technology also enables significantly more powerful object classification. After just a short learning phase, the neural networks integrated at the camera level already allow more effective use of video analysis functions. This makes the evaluation of results from analysis functions such as "Tamper Detection", "Line Crossing" or "Intrusion Detection" still more efficient.

Further information
Those who are interested will find more detailed information in the Camera datasheet [PDF].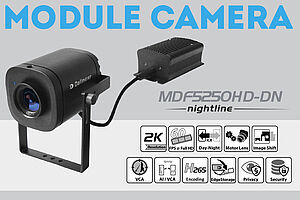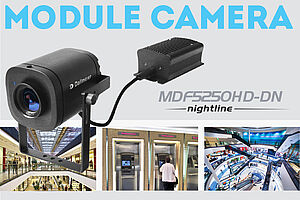 Dallmeier: Turn images into assets.
With pioneering video technology from Germany.
In 1984 Dieter Dallmeier founded what is now Dallmeier electronic – not in the proverbial garage, but in a garden shed in Regensburg, Germany. Today, the company, which can justifiably call itself a hidden champion for video information technology "Made in Germany", has several hundred employees worldwide, more than 250 of them at the company headquarters in the centre of Regensburg alone.
Our customers: From commercial enterprises to World Cup stadiums
Dallmeier's camera, recording, software, and analysis solutions optimise security and processes for B2B end customers in a wide range of industries in over 60 countries. The focus is on users from the casino, smart city, airports, logistics, stadiums, and industrial sectors. But also, banks, critical infrastructure facilities as well as medium-sized companies from all sectors.
Low total cost of ownership "Made in Germany"
With pioneering innovations, Dallmeier has succeeded time and again in placing itself at the forefront of technology: From the world's first digital image storage system with motion analysis in 1992, the patented "multifocal sensor technology" Panomera® with its "Mountera®" mounting system, to the latest Domera® camera family, which allows up to 300 camera variants with only 18 components. These and many other innovations provide real, tangible customer benefits. And with a low Total Cost of Ownership (TCO) and a high Return on Investment (ROI) they can easily compete with systems produced and supplied from low-wage countries.

Cybersecurity, data protection and ethical responsibility through maximum vertical integration
With 100% "Made in Germany", we also guarantee our customers the highest standards in data protection, cybersecurity, and ethical responsibility. With high quality and short supply chains, we also ensure – almost incidentally – sustainability and environmental protection. From our prestigious headquarters in the centre of Regensburg, Dallmeier not only carries out its own research and development but also the complete manufacturing process – from component to product to solution.

www.dallmeier.com
www.panomera.com