Press Release 21 April 2022
Finding a "Person of Interest" in three minutes instead of 20
European Dealer Championship 2022: Dallmeier presents solutions for efficient casino operations
Download Press Release and Illustrations here
Regensburg (Germany), 21 April 2022 - Dallmeier, a leading German manufacturer of video solutions for casinos, is sponsor of the
European Dealer Championship 2022
(16 to 18 May 2022, Casino de Monte-Carlo, Monaco). With Dallmeier's cameras and recording systems as well as the "Casino Operating System" HEMISPHERE® SeMSy®, casino operators can integrate, process and present data from different systems, and thereby improve their security and business processes.
The European Dealer Championship offers the best croupiers in Europe the opportunity to prove their skills. At the same time, the event serves as a platform for leading companies in the industry to meet, network and exchange information on current technologies.
"Search & Find" seven times faster
With the open Dallmeier HEMISPHERE® SeMSy® software platform, Dallmeier will show how casino operators can manage data from different systems via a central hub. These include point-of-sale, slot machines, card shoes, RFID readers, access control or fire alarm systems as well as data from the Dallmeier CAT table game analysis systems. Widgets can be used to create personalised user interfaces so for example floor managers or security officers only ever see exactly the information they need for their task. Seamless integration and linking of video data allows events or alarms to be tracked, researched and verified extremely efficiently. In combination with the innovative 360° "Panomera® W8" camera systems, finding a "person of interest" in a standard scenario on the gaming floor can be done in less than three minutes instead of over 20 minutes with traditional PTZ-technology in comparable scenarios. The "W8" works like a combination of overview and PTZ camera and enables convenient tracking of the wanted person. Once the incident is under control, casino staff can centrally collect, store and share videos, notes, reports and other information about a specific incident via "digital incident files".
Which cameras does regulation really require?
In addition, the Dallmeier experts provide information on how casinos can meet the requirements of the regulatory authorities for video security systems with fewer cameras. For example, just a few Dallmeier "Panomera® W8" cameras are sufficient to ensure the camera redundancies required on the gaming floor if, for example, one of two over-the-table cameras fails.
"In contrast to classic PTZ cameras, the Dallmeier Panomera® W cameras enable an overview of the largest contexts and at the same time allow one or more "virtual PTZs" to be opened at the click of a mouse. This means that far fewer camera systems are needed, with a corresponding positive effect on the total cost of ownership," says Ep Smit, casino expert at Dallmeier. "Unlike PTZ cameras, casino operators can also use our W8 for numerous analytics applications, for example to better utilise the gaming floor, or to provide a better customer experience and customer loyalty."
Further information: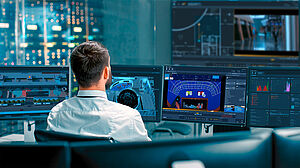 Dallmeier: Turn images into assets.
With pioneering video technology from Germany.
In 1984 Dieter Dallmeier founded what is now Dallmeier electronic – not in the proverbial garage, but in a garden shed in Regensburg, Germany. Today, the company, which can justifiably call itself a hidden champion for video information technology "Made in Germany", has several hundred employees worldwide, more than 250 of them at the company headquarters in the centre of Regensburg alone.
Our customers: From commercial enterprises to World Cup stadiums
Dallmeier's camera, recording, software, and analysis solutions optimise security and processes for B2B end customers in a wide range of industries in over 60 countries. The focus is on users from the casino, smart city, airports, logistics, stadiums, and industrial sectors. But also, banks, critical infrastructure facilities as well as medium-sized companies from all sectors.
Low total cost of ownership "Made in Germany"
With pioneering innovations, Dallmeier has succeeded time and again in placing itself at the forefront of technology: From the world's first digital image storage system with motion analysis in 1992, the patented "multifocal sensor technology" Panomera® with its "Mountera®" mounting system, to the latest Domera® camera family, which allows up to 300 camera variants with only 18 components. These and many other innovations provide real, tangible customer benefits. And with a low Total Cost of Ownership (TCO) and a high Return on Investment (ROI) they can easily compete with systems produced and supplied from low-wage countries.

Cybersecurity, data protection and ethical responsibility through maximum vertical integration
With 100% "Made in Germany", we also guarantee our customers the highest standards in data protection, cybersecurity, and ethical responsibility. With high quality and short supply chains, we also ensure – almost incidentally – sustainability and environmental protection. From our prestigious headquarters in the centre of Regensburg, Dallmeier not only carries out its own research and development but also the complete manufacturing process – from component to product to solution.

www.dallmeier.com
www.panomera.com