Press Release 19 April 2018
Dallmeier presents VideoNetBox 3, the easy to deploy, plug-and-play video security solution for small and medium-sized businesses
Download Press Release and Illustrations
For small and medium-sized businesses (SMB), it is particularly important that video security solutions are easy to install and smooth to operate. Precisely for this target group, Dallmeier offers VideoNetBox 3 which can be configured quickly and simply as a complete video security solution for up to 16 HD video streams. The appliance combines the proven SMAVIA recording and analysis software with compact, fanless, energy-efficient server hardware.
With VideoNetBox 3, shops, petrol stations, small manufacturing businesses or the like can build solutions quickly and simply based on the proven Dallmeier camera- and recording- technology. The manufacturer's leading multifocal Panomera® systems are also supported. Comprehensive analysis and operating functions ensure that the customer's security objectives are fulfilled even when setting up complex security solutions.
The "plug-and-play" approach and excellent energy efficiency reduce cost and complexity. If desired, customers can integrate cameras from third party manufacturers via ONVIF. Perfectly matched hardware-components optimise space requirements and minimise noise while providing excellent passive cooling and power consumption not exceeding 15 Watt. VideoNetBox 3 supports up to 16 HD video streams with a frame rate of up to 30 fps. Two hard disk bays provide up to 4 TB storage capacity.
From simple analysis to complete security management
The integrated SMAVIA Viewing Client enables independent, convenient analysis of recordings. For example, footage with motion can be found quickly and intelligently with the "SmartFinder" function, or site plans can be integrated. In addition to that, SMAVIA offers a whole range of analysis and viewing functions. Two licences for Windows workstations are included in each VideoNetBox 3.
For more extensive requirements, Dallmeier offers the optional SeMSy®, a complete security management system ranging from the display of live images, a wide selection of options for searching and analysing the recordings, to control of PTZ cameras and easy archiving of significant recordings.
One solution for all requirements in the SMB environment
To guarantee that IT personnel, security officers or company executives are always kept in the picture even when they are travelling, the optional DMVC Server function enables the display of live images and playback of recordings on mobile devices running under iOS or Android. For rural areas or when connecting branch offices using low bandwidths, the PRemote-HD function which is also available as an option helps with transcoding high resolution video streams (live and playback).
If a network connection fails, the Dallmeier network cameras save data temporarily to a built-in RAM memory, ensuring that no information is lost. When the network is working again, the changes are synchronised automatically.
The pre-installed SMAVIA Recording Server software is designed as an open platform. In conjunction with the corresponding licences, 3rd party network cameras can be recorded with Motion Detection and configured using the ONVIF protocol.
"The most important feature of security management is that it reliably meets the security objectives within the company. Here, we are seeing a change in the thinking of many customers back towards integrated solutions with as many components as possible from one manufacturer to ensure utmost interoperability", says Thomas Reisinger, Dallmeier CTO. "With VideoNetBox 3 we are offering a solution that is easy to deploy and operate for companies wishing to record up to 16 streams. Our known camera and analysis systems have been perfectly integrated in the new platform."
Further information:
www.dallmeier.com/appliance-videonetbox3-en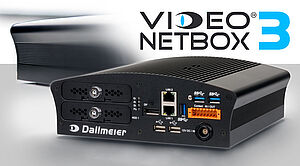 Dallmeier: Turn images into assets.
With pioneering video technology from Germany.
In 1984 Dieter Dallmeier founded what is now Dallmeier electronic – not in the proverbial garage, but in a garden shed in Regensburg, Germany. Today, the company, which can justifiably call itself a hidden champion for video information technology "Made in Germany", has several hundred employees worldwide, more than 250 of them at the company headquarters in the centre of Regensburg alone.
Our customers: From commercial enterprises to World Cup stadiums
Dallmeier's camera, recording, software, and analysis solutions optimise security and processes for B2B end customers in a wide range of industries in over 60 countries. The focus is on users from the casino, smart city, airports, logistics, stadiums, and industrial sectors. But also, banks, critical infrastructure facilities as well as medium-sized companies from all sectors.
Low total cost of ownership "Made in Germany"
With pioneering innovations, Dallmeier has succeeded time and again in placing itself at the forefront of technology: From the world's first digital image storage system with motion analysis in 1992, the patented "multifocal sensor technology" Panomera® with its "Mountera®" mounting system, to the latest Domera® camera family, which allows up to 300 camera variants with only 18 components. These and many other innovations provide real, tangible customer benefits. And with a low Total Cost of Ownership (TCO) and a high Return on Investment (ROI) they can easily compete with systems produced and supplied from low-wage countries.

Cybersecurity, data protection and ethical responsibility through maximum vertical integration
With 100% "Made in Germany", we also guarantee our customers the highest standards in data protection, cybersecurity, and ethical responsibility. With high quality and short supply chains, we also ensure – almost incidentally – sustainability and environmental protection. From our prestigious headquarters in the centre of Regensburg, Dallmeier not only carries out its own research and development but also the complete manufacturing process – from component to product to solution.

www.dallmeier.com
www.panomera.com