Press Release 29 March 2019
Dallmeier sponsors the 2019 European Dealer Championship and shows how the combination of video technology and AI can be used as a virtual assistant for dealers
Download Press Release and Illustrations
Casino operators are looking intensively for solutions that help dealers to prevent errors and run table games efficiently. Industry pioneer Dallmeier aims to solve such challenges with their "Casino Automation Technology (CAT)", using an innovative combination of video technology and artificial intelligence. The company sponsors the 2019 European Dealer Championship, which will take place from April 29 to May 1 at the Olympic Park Casino in the Estonian capital Tallinn. Visitors will be able to meet Dallmeier representatives to discuss the benefits of CAT for casino dealers, supervisors and other casino staff.
Every dealer gets a virtual assistant
Dallmeier's "Casino Automation Technology (CAT)" combines camera and AI technologies for a much more proactive way of running casino operations. For dealers, CAT can function as virtual assistant that monitors all gaming table transactions in real time and automates redundant manual tasks, thus increasing the game pace. For example, the AI-based system recognizes suspicious winning patterns, warns the dealer of errors and automatically confirms openers and closers. CAT also enables casino operators to run performance analyses and ratings of dealers.
Casinos around the globe rely on Dallmeier solutions
As one of the world's pioneers of IP video security systems, Dallmeier has been developing and manufacturing innovative, high-performance security and business solutions for over 35 years. One of the company's major breakthroughs took place in the casino industry: In 1997, Dallmeier developed the world´s first completely IP-based casino video surveillance and gaming table solution for the Crown Casino in Australia. Today, the majority of the world's largest casinos run Dallmeier recording, camera and software solutions.
The European Dealer Championship brings together the best dealers in Europe
The European Dealer Championship (EDC) is the long-running competition organised by the European Casino Association that takes place yearly at an ECA member casino. National champions compete against each other in a competition that involves technical skill, control of the game and hospitality. Also taking place are competitions to find the best chipper, best card handler, best cutting chips, best pushing stacks and best mathematician. The 2019 edition will bring together 36 of the best dealers in Europe to crown Europe's best dealer alongside leading representatives of the land-based casino industry in Europe.
Further information:
https://www.dallmeier.com/en/solutions/markets/casino/solution-table-gaming-automation.html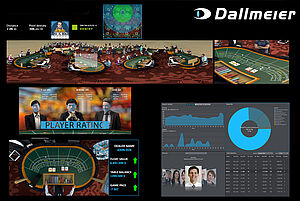 Dallmeier: Turn images into assets.
With pioneering video technology from Germany.
In 1984 Dieter Dallmeier founded what is now Dallmeier electronic – not in the proverbial garage, but in a garden shed in Regensburg, Germany. Today, the company, which can justifiably call itself a hidden champion for video information technology "Made in Germany", has several hundred employees worldwide, more than 250 of them at the company headquarters in the centre of Regensburg alone.
Our customers: From commercial enterprises to World Cup stadiums
Dallmeier's camera, recording, software, and analysis solutions optimise security and processes for B2B end customers in a wide range of industries in over 60 countries. The focus is on users from the casino, smart city, airports, logistics, stadiums, and industrial sectors. But also, banks, critical infrastructure facilities as well as medium-sized companies from all sectors.
Low total cost of ownership "Made in Germany"
With pioneering innovations, Dallmeier has succeeded time and again in placing itself at the forefront of technology: From the world's first digital image storage system with motion analysis in 1992, the patented "multifocal sensor technology" Panomera® with its "Mountera®" mounting system, to the latest Domera® camera family, which allows up to 300 camera variants with only 18 components. These and many other innovations provide real, tangible customer benefits. And with a low Total Cost of Ownership (TCO) and a high Return on Investment (ROI) they can easily compete with systems produced and supplied from low-wage countries.

Cybersecurity, data protection and ethical responsibility through maximum vertical integration
With 100% "Made in Germany", we also guarantee our customers the highest standards in data protection, cybersecurity, and ethical responsibility. With high quality and short supply chains, we also ensure – almost incidentally – sustainability and environmental protection. From our prestigious headquarters in the centre of Regensburg, Dallmeier not only carries out its own research and development but also the complete manufacturing process – from component to product to solution.

www.dallmeier.com
www.panomera.com