Press Release 19 April 2018
Press Release 19 April 2018
Dallmeier presents VideoNetBox 3, the easy to deploy, plug-and-play video security solution for small and medium-sized businesses
Download Press Release and Illustrations
For small and medium-sized businesses (SMB), it is particularly important that video security solutions are easy to install and smooth to operate. Precisely for this target group, Dallmeier offers VideoNetBox 3 which can be configured quickly and simply as a complete video security solution for up to 16 HD video streams. The appliance combines the proven SMAVIA recording and analysis software with compact, fanless, energy-efficient server hardware.
With VideoNetBox 3, shops, petrol stations, small manufacturing businesses or the like can build solutions quickly and simply based on the proven Dallmeier camera- and recording- technology. The manufacturer's leading multifocal Panomera® systems are also supported. Comprehensive analysis and operating functions ensure that the customer's security objectives are fulfilled even when setting up complex security solutions.
The "plug-and-play" approach and excellent energy efficiency reduce cost and complexity. If desired, customers can integrate cameras from third party manufacturers via ONVIF. Perfectly matched hardware-components optimize space requirements and minimize noise while providing excellent passive cooling and power consumption not exceeding 15 Watt. VideoNetBox 3 supports up to 16 HD video streams with a frame rate of up to 30 fps. Two hard disk bays provide up to 4 TB storage capacity.
From simple analysis to complete security management
The integrated SMAVIA Viewing Client enables independent, convenient analysis of recordings. For example, footage with motion can be found quickly and intelligently with the "SmartFinder" function, or site plans can be integrated. In addition to that, SMAVIA offers a whole range of analysis and viewing functions. Two licences for Windows workstations are included in each VideoNetBox 3.
For more extensive requirements, Dallmeier offers the optional SeMSy®, a complete security management system ranging from the display of live images, a wide selection of options for searching and analysing the recordings, to control of PTZ cameras and easy archiving of significant recordings.
One solution for all requirements in the SMB environment
To guarantee that IT personnel, security officers or company executives are always kept in the picture even when they are travelling, the optional DMVC Server function enables the display of live images and playback of recordings on mobile devices running under iOS or Android. For rural areas or when connecting branch offices using low bandwidths, the PRemote-HD function which is also available as an option helps with transcoding high resolution video streams (live and playback).
If a network connection fails, the Dallmeier network cameras save data temporarily to a built-in RAM memory, ensuring that no information is lost. When the network is working again, the changes are synchronized automatically.
The pre-installed SMAVIA Recording Server software is designed as an open platform. In conjunction with the corresponding licences, 3rd party network cameras can be recorded with Motion Detection and configured using the ONVIF protocol.
"The most important feature of security management is that it reliably meets the security objectives within the company. Here, we are seeing a change in the thinking of many customers back towards integrated solutions with as many components as possible from one manufacturer to ensure utmost interoperability", says Thomas Reisinger, Dallmeier CTO. "With VideoNetBox 3 we are offering a solution that is easy to deploy and operate for companies wishing to record up to 16 streams. Our known camera and analysis systems have been perfectly integrated in the new platform."
Further information:
http://www.dallmeier.com/ls/appliance-videonetbox3-en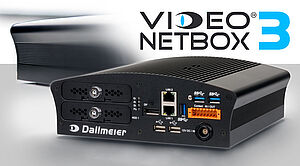 Dallmeier is the only manufacturer of video security technology that develops and manufactures all components in Germany. This includes the entire product range, from cameras to picture storage and transmission to intelligent video analysis and even individually adjusted management software. Quality made by Dallmeier, made in Germany!
Dallmeier has at its disposal more than 35 years of experience in transmission, recording as well as picture processing technology and is a leading pioneer of CCTV/IP solutions worldwide. This profound knowledge is used in the development of intelligent software and high-quality recorder and camera technologies enabling Dallmeier to not only offer stand-alone systems, but complete network solutions up to large-scale projects with perfectly integrated component. Right from the beginning the company always focused on own innovative developments and highest quality and reliability.
Over the years, Dallmeier has repeatedly given fresh impetus to the market with new developments and extraordinary innovations. The world's first DVR for example, which introduced digital recording to the entire CCTV industry more than 25 years ago, came from Dallmeier. The introduction of the patented multifocal sensor system Panomera® has had a similarly ground-breaking effect, ushering in a new era for the industry. This unique camera technology is revolutionising the market and opening up completely new possibilities for securing assets, optimising business operations and ensuring public safety. This and the extensive experience in the CCTV and IP field have led to a top position in the international market for digital video surveillance systems.