Press Release of 9 September 2020
Press Release of 9 September 2020
Neue "Panomera®"-Generation und effiziente Videoanalyse "Made in Germany"
SicherheitsExpo 2020: Dallmeier zeigt Konzepte für wirtschaftliche "Videoinformationstechnologie"
Download Press Release and Illustrations here
Regensburg, 9. September 2020 – Die eigentlichen Bilder treten in der Videotechnologie zunehmend in den Hintergrund. Immer wichtiger werden stattdessen über bildgebende Verfahren erfasste Daten und die daraus gewonnenen Erkenntnisse für Sicherheitsmanagement und Prozessoptimierung. Dabei erfordert die Umsetzung einer solchen wahrhaften "Videoinformationstechnologie" einen ganzheitlichen Ansatz, der nicht nur die Analysetechnologie selbst, sondern auch viele andere relevante Faktoren berücksichtigt. Wie das funktionieren kann, zeigt der deutsche Videotechnik-Pionier Dallmeier auf der SicherheitsExpo 2020 zusammen mit seinem Tochterunternehmen Dallmeier Systems am 21. und 22. Oktober 2020 im MOC München (Halle 3, Stand C03).

Das Erfassen von Daten mittels Videobildern hat inzwischen einen festen Stellenwert bei einer Vielzahl von Anwendungen. Dabei reichen die Möglichkeiten von der Personenzählung über die Verringerung von Falschalarmen durch KI-gestützte Objektklassifizierung bis hin zur "Appearance Search", wo z. B. Personen nach bestimmten Merkmalen gesucht werden. Bei allem Enthusiasmus für derartige Assistenzsysteme vergessen Anwender jedoch häufig, ganzheitlich vorzugehen und Themen wie Wirtschaftlichkeit, Bildqualität, Planbarkeit oder rechtliche Rahmenbedingungen ausreichend zu berücksichtigen.

Neue Generation der Panomera® garantiert Datenqualität auf ganzer Fläche
Eine wesentliche Rolle für gute Analyseergebnisse spielt die Bildqualität. Dallmeier stellt dazu auf seinem Stand die neueste Generation der patentierten "Panomera®" Multifocal-Sensorsysteme vor. Diese Kameras kombinieren bis zu acht Sensoren unterschiedlicher Brennweite in einem einzigen optischen System und bieten daher auch in den mittleren und hinteren Bildbereichen eine genau definierbare Mindestauflösung. Damit können Anwender die für eine aussagekräftige Analyse benötigte Bild- und Datenqualität selbst auf sehr großen Flächen durchgängig erreichen und die Zahl der benötigten Systeme wesentlich reduzieren.

Kommen die Systeme auch zur klassischen Videobeobachtung und -überwachung zum Einsatz, haben mehrere Operatoren die Möglichkeit, unabhängig voneinander auf verdächtige Geschehnisse zu zoomen, so als ob mehrere virtuelle PTZ-Kameras zur Verfügung stünden. Im Gegensatz zu PTZ-Systemen zeichnen die Panomera®-Kameras aber auch alle Bildbereiche außerhalb des "PTZ-Zooms" weiterhin in hoher Auflösung auf. Somit entstehen keinerlei Lücken für die forensische Auswertung und die Analyse.

Offene Plattform mit HEMISPHERE®
Je nach Branche und Ausrichtung unterscheiden sich die Anforderungen an Sicherheits- und Prozessmanagement zum Teil deutlich. Mit der Dallmeier Software-Plattform HEMISPHERE® für Security und Business können Anwender die für ihre Anforderung nötigen Module individuell zu einer Gesamtlösung zusammenzusetzen, vom klassischen Gebäudemanagement bis hin zur "Situational Awareness"-Lösung für Einsatzkräfte. Die offenen Schnittstellen der Software erlauben dabei die problemlose Integration von Drittsystemen, wie etwa Zutrittskontrollen, Einbruchmeldeanlagen oder Brandmeldeanlagen.

"Datenschutzrollo" als neueste Innovation für Datenschutz "Made in Germany"
Funktionen und Strategien für "Privacy by Design" und "Security by Design" stehen bei Dallmeier nicht erst seit Inkrafttreten der DSGVO im Mittelpunkt der Produktentwicklung. Mit dem "Privacy Shield" für die Panomera® S Serie zeigt Dallmeier seine neueste Innovation: Einsatzkräfte, Behörden aber auch Privatunternehmen können mit dem Privacy Shield direkt vom Leitstand aus die Panomera®-Kameras weithin sichtbar außer Betrieb setzen. Somit ist der datenschutzkonforme Einsatz der Dallmeier Systeme in unterschiedlichsten Szenarien wie etwa bei Kundgebungen oder Streiks sichergestellt – und zwar ohne den derzeit dafür nötigen finanziellen und personellen Aufwand.

Weitere Informationen:
Dallmeier Messestand auf der SicherheitsExpo 2020: Halle 3, Stand C03
Vortrag "Von CCTV zur Videoinformationstechnologie" des Dallmeier Videosicherheitsexperten Josua Braun (21. Oktober 2020, SicherheitsExpo 2020, Forum 1, 10:30–11:00 Uhr)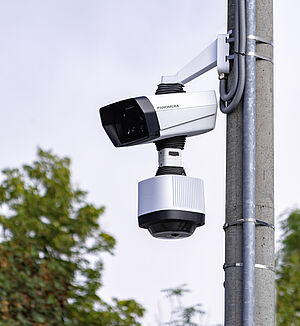 Dallmeier: Turn images into assets.
With pioneering video technology from Germany.
In 1984, Founder & CEO Dieter Dallmeier founded what is now Dallmeier electronic – not in the proverbial garage, but in a garden shed in Regensburg, Germany. Today, the company, which can justifiably call itself a hidden champion for video information technology "Made in Germany", has several hundred employees worldwide, more than 250 of them at the company headquarters in the centre of Regensburg alone.
Our customers: From commercial enterprises to World Cup stadiums
Dallmeier's camera, recording, software, and analysis solutions optimise security and processes for B2B end customers in a wide range of industries in over 60 countries. The focus is on users from the casino, smart city, airports, logistics, stadiums, and industrial sectors. But also, banks, critical infrastructure facilities as well as medium-sized companies from all sectors.
Low total cost of ownership "Made in Germany"
With pioneering innovations, Dallmeier has succeeded time and again in placing itself at the forefront of technology: From the world's first digital image storage system with motion analysis in 1992, the patented "multifocal sensor technology" Panomera® with its "Mountera®" mounting system, to the latest Domera® camera family, which allows up to 300 camera variants with only 18 components. These and many other innovations provide real, tangible customer benefits. And with a low Total Cost of Ownership (TCO) and a high Return on Investment (ROI) they can easily compete with systems produced and supplied from low-wage countries.

Cybersecurity, data protection and ethical responsibility through maximum vertical integration
With 100% "Made in Germany", we also guarantee our customers the highest standards in data protection, cybersecurity, and ethical responsibility. With high quality and short supply chains, we also ensure – almost incidentally – sustainability and environmental protection. From our prestigious headquarters in the centre of Regensburg, Dallmeier not only carries out its own research and development but also the complete manufacturing process – from component to product to solution.

www.dallmeier.com
www.panomera.com